PBOC Put? Li Signals No Major Stimulus While Past Suggests a Cut
Bloomberg News
Premier Li says policy makers won't flood economy with money

PBOC has responded to past market meltdowns with rate cuts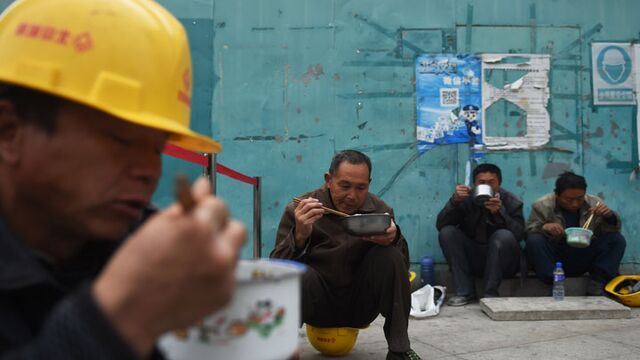 When China's main stock index plunged about 20 percent in the second half of June, the central bank stepped in with a quarter percentage point interest-rate reduction, then cut again in August after a similar rout.
Both moves evoked comparisons with the strategy pursued by former U.S. Federal Reserve Chairman Alan Greenspan, who sought to underpin market meltdowns with monetary easing -- better known as the "Greenspan Put." Now, with the Shanghai Composite Index down 15 percent already this year, will People's Bank of China Governor Zhou Xiaochuan step in again with another defensive move?
While the weekend's inflation reading suggests there's room to act, government signals give reason to pause: Policy makers wouldn't seek strong stimulus or flood the economy with too much investment to boost demand, Beijing News cited Premier Li Keqiang as saying. The central government's website republished that report Sunday, and the official Xinhua News Agency cited the comments on its online front page on Monday.
What's not clear is whether that rules out near-term monetary stimulus, or just the extent of any upcoming move.
"Li's statement signals that this year the focus of economic work will shift to the 'supply side' compared to previous demand-side stimulus," said Xia Le, a Hong Kong-based economist at Banco Bilbao Vizcaya Argentaria SA. One reason to delay further rate cuts is that such a move may exacerbate capital outflows, Xia said.
Policy Transition
Pressure on the currency, stocks, capital outflows and growth is intensifying as China's policy makers wrestle with the transition towards a greater role for markets. Compounding the challenge, the ructions coincide with an overhaul of the central bank's tool kit as monetary policy shifts to a price-based mechanism and the main liquidity lever is set to be used to enforce financial stability instead.
Chinese stocks fell Monday, extending last week's plunge, while the yuan gained after the central bank kept its reference rate largely steady for a second day.
"We are not going to use 'strong stimulus' or 'flood irrigation' investment to expand domestic demand," Li was cited as saying in the Beijing News report. Instead, policies will seek to develop new business models and create new drivers for the economy, Li said according to the report.
Policy Conundrums
Li and Zhou face a number of policy conundrums, such as how to support the slowest growth pace in a quarter century with a weaker yuan and lower interest rates when such conditions both risk accelerating destabilizing capital outflows. Or how to spur new lending with an evolving interest-rate system while keeping a lid on overall debt growth that looms over long-term prospects.
"The challenge in moving from one set of rules to another is keeping market expectations from becoming unhinged as they did last summer," said David Loevinger, a former China specialist at the U.S. Treasury and now an analyst at fund manager TCW Group Inc. in Los Angeles. "There's no risk-free road map."
Another key challenge is how to loosen state reins on the yuan and allow enough weakness to spur exports without triggering a depreciation that again roils global markets.

"The policy of gradual appreciation against the dollar provided an anchor in the past, but that's gone now," said David Dollar, a senior fellow at the Brookings Institution in Washington who previously worked for the U.S. Treasury in Beijing. "PBOC must convince investors, especially domestic ones, that it can allow more flexibility in the exchange rate but still maintain overall confidence in the currency."
After a surprise devaluation of the yuan in August, the central bank said in December it will use a basket of currencies to value the currency instead of linking it directly to the U.S. dollar. For some, that gave the green light to further weakness.
The yuan is overvalued by around 15 percent and should be guided lower as quickly as possible "without triggering a stampede in outflows," says Stephen Jen, co-founder of London-based hedge fund SLJ Macro Partners LLP.

The central bank is seen cutting the one-year lending rate to 3.85 percent this year from the current 4.35 percent, according to the median estimate of a Bloomberg survey last month. The PBOC is also moving away from that benchmark as it seeks a new monetary mechanism pegged off short-term rates.
In past episodes of capital outflows, the central bank responded by reducing the required proportion of deposits banks must set aside. But clouding the outlook, the required reserve ratio will be increasingly used instead as a lever for enforcing financial stability under a new Macro Prudential Assessment system announced Dec. 29.

The RRR rate will this year fall to 15 percent from 17.5 percent for major banks, according to the median estimate in a Bloomberg survey before that statement.
With the Fed in tightening mode, further PBOC easing could prove tricky, said Zhou Hao, a senior economist in Singapore at Commerzbank AG. Still, he is forecasting the PBOC will cut the policy rate by 25 basis points in the first quarter, while multiple RRR cuts will help to loosen monetary conditions due to possible capital outflows.