Photographer: Noriko Hayashi/Bloomberg
Negative Rates Backfire to Worsen Japan Economic Slump, BNP Says
by and
Strategist and author Tokukatsu says BOJ should end easing

Low rates benefit government, make people poorer: BNP
Reiko Tokukatsu has written a bestseller on Japan's failed experience with negative interest rates and it's challenging the economic playbooks adopted by central bankers around the developed world.
The relative value strategist at BNP Paribas SA in Tokyo, whose book "Negative Rates" ranked the top among finance books since it went on sale on Dec. 10, says bond yields lower than inflation pass the debt burden to future generations and impoverish their lives, while keeping zombie companies alive, contradicting the Bank of Japan's goal of reviving economic growth. The main beneficiary of the monetary easing is the government, which sees interest costs drop and a devaluation of its debt pile.
"Textbooks say negative rates are risk free but they are camouflaging the reality that contradicts the theory," Tokukatsu said in an interview in Tokyo Jan. 6. "It's beneficial for the government but it's financial repression for the people."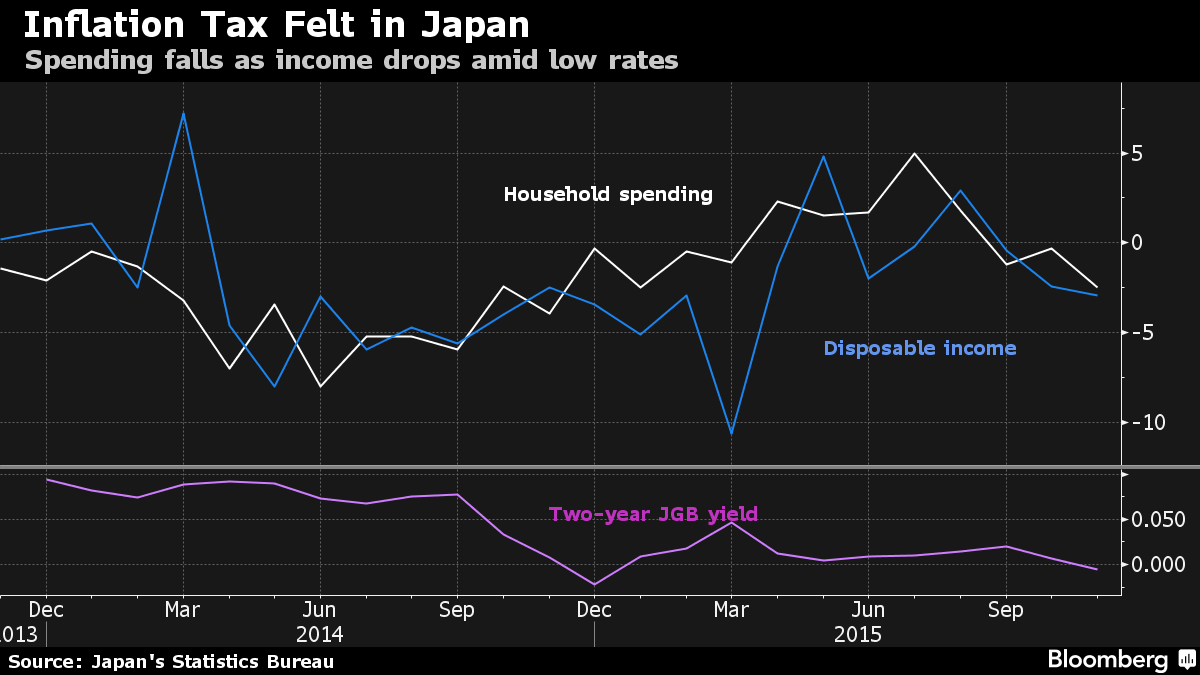 Tokukatsu is among skeptics of bond-buying stimulus including U.S. hedge fund manager David Einhorn, who said in 2012 that lower rates would cause people to hoard savings rather than consume as their investment returns drop while the cost of commodities surges. The BOJ and monetary authorities across Europe are betting that interest rates below zero will reduce borrowing costs for companies and households, driving demand for loans as well as encouraging investment in higher-yielding assets.
Japan's benchmark 10-year government bond yield fell to a one-year low of 0.215 percent on Tuesday, near the record 0.195 percent reached in January 2015.
Mixed Data
The experience in Japan is mixed. Household spending fell for a third month in November, as industrial production dropped for the first time in three months, while real wages adjusted for inflation declined. The combination of fiscal stimulus and monetary easing known as Abenomics has spurred corporate profits, increased tax revenue and fueled about 70 percent gain in the benchmark Topix stock index since Prime Minister Shinzo Abe's election in December 2012.
The BOJ scrapped interest rates as its main policy tool in 2013 and instead set a target for the size of the monetary base. It has kept its deposit rate at 0.1 percent. Governor Haruhiko Kuroda has said he is confident that he can attain the 2 percent inflation target around the six months through March 2017, but that timing could change because of the slump in oil prices. Kuroda initially said the bank aimed to reach the goal by March 2015.
Demographic Challenge
"It's nonsense to strengthen a policy where risk and return don't match," said Hidenori Suezawa, an analyst at SMBC Nikko Securities Inc. in Tokyo. "Despite the easing, the 2 percent target wasn't reached in two years. It raises questions about the necessity of strengthening a policy that carries side effects without results or extending it for three or five more years."
Central banks in Europe including the European Central Bank and Sweden's Riksbank have cut key interest rates below zero in a bid to reinvigorate their economies. Low birth rates globally, falling commodity prices and automation mean Japan is probably giving us "a crystal ball view of the future for the planet," said Pete Comley, the author of Inflation Tax, a book about government attempts to inflate away their debts.
Japan's "declining working population and increasing number of pensioners are keeping demand down and helping keep inflation rates low," said Comely. "QE is not going to deal with that structural issue."
Consumer prices in Japan excluding fresh food costs rose 0.1 percent from a year earlier in November, while an inflation gauge stripping out both food and energy prices increased 0.9 percent, according to government data released last month.
No Deflation
"The time is right for the BOJ to end quantitative and qualitative easing and taper," said Tokukatsu at BNP Paribas. "The inflation rate isn't negative so it isn't deflation. The 2 percent target is too high but 1 percent is achievable."
After graduating from the University of Tokyo in 1986, Tokukatsu, among other places, worked at Morgan, Grenfell & Co., Salomon Brothers Asia Securities and Barclays Plc before joining BNP Paribas in 2014. The book sold 7,000 copies since going on sale, something rare for this kind of specialized book with a targeted audience, according to the publisher.
While the majority view of economists is that the BOJ is far from reaching its inflation target, most say it will stick to its pace of quantitative easing rather than expand or reduce it. The pressure is now on Abe to take up the mantle of stimulus as liquidity in the bond market evaporates, they argue. The BNP strategist says the time is ripe for the central bank to end its unprecedented monetary easing and policy makers need to accept more modest economic goals.
"Monetary easing has lasted too long," Tokukatsu said. "Japan should lower targets appropriate for a mature economy with a falling potential growth rate."
Before it's here, it's on the Bloomberg Terminal.
LEARN MORE