Merkel Urges Speedy Tightening of Asylum Rules After Sex Attacks
By , , and
German chancellor warns of risk to Europe amid public outrage

Two main parties agree on proposal for easing deportations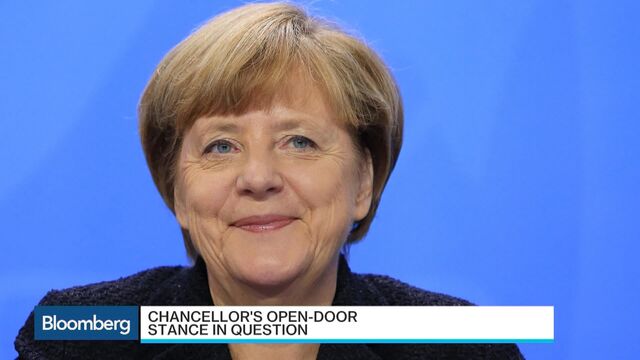 Chancellor Angela Merkel's government moved swiftly to tighten asylum rules in response to public outrage over the New Year's Eve sexual assaults as the German leader said the refugee crisis is putting Europe at risk.
QuickTake Europe's Refugee Crisis
Merkel's Christian Democratic Union and her Social Democratic coalition ally agreed on Tuesday on legislative proposals to ease the expulsion of refugees who commit crimes, including sexual assault and attacks on police officers, as fallout from the attacks heightens the threat to the chancellor's open-door refugee policy.
"The priority now is to get these laws in force as quickly as possible" so that courts can apply them, Merkel said at a news conference in Berlin. "We're looking at how to make the parliamentary process as fast as possible."
Merkel plans to meet lawmakers later Tuesday to move the measures forward as the number of criminal complaints linked to a group of over 1,000 men who gathered in front of Cologne's main station on New Year's Eve surged to more than 500. Some 45 percent of the complaints involve sexual assault against women, Cologne police said this week. Twenty-two of 32 suspects identified by authorities are asylum seekers, the Interior Ministry said.
"We are vulnerable because we don't have the orderliness and management of the refugees under control yet," Merkel said in a speech to a business group in the western city of Mainz on Monday. While voicing frustration that progress on securing the European Union's outer frontiers is "too slow," she vowed to uphold open borders between the members of the Schengen agreement because it benefits Germany's economy.
Merkel is confronting what she has called the "most complex" challenge of her 10 years in power, with the incidents in Cologne and other cities blowing up the country's already heated debate on migration. The arrival of 1.1 million asylum seekers last year has strained Germany's ability to handle the record influx.
"We're facing a parliamentary week in which the gaps have to be clearly addressed," Michael Grosse-Broemer, the parliamentary whip for Merkel's party bloc, told reporters.
Support Drops
Support for Merkel's bloc and the Social Democrats declined 1 percentage point each to 35 percent and 21.5 percent, respectively, in an INSA poll for Bild newspaper published Tuesday. Alternative for Germany, which calls for shutting the border to migrants and doesn't have seats in the national parliament, gained 2 points to 11.5 percent in the Jan. 8-11 poll of 2,039 people. No margin of error was given, and three other national polls taken in January put support for Merkel's bloc at 39 percent.
Responding to the attacks, Merkel's CDU party agreed last weekend to lower the legal barrier for foreigners who commit crimes.
"After what happened during that night in Cologne, where young women in particular went through terrible experiences, we in the government are thinking intensely about what could be changed," the chancellor said Monday. "We will reach conclusions very quickly."
Interior Minister Thomas de Maiziere said he and Justice Minister Heiko Maas, a Social Democrat, agreed on a proposal that "sharply lowers the hurdles for the possible expulsion of foreigner who have committed crimes in Germany."
"This is a tough but proper response by the state," de Maiziere, a Christian Democrat, told reporters.