Mapping the Real-Time Air Pollution Wafting Over Cities Around the World
How noxious is your city?
By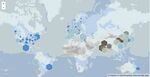 On the heels of the COP21 summit, a new real-time mapping tool tracks hourly changes in air quality for around 200 metro areas around the world. The user-friendly World Air Map, designed by Plume Labs—a company that makes environmental software for health and well-being—offers a way to monitor the progress of long-term goals (such as the ones agreed upon in Paris) as well as short-term interventions (like the one being tested in New Delhi) on a daily basis.
Plume Labs helped bring attention to the air pollution problem in Paris last year, which led to the city instituting a partial ban on cars (similar to the one now being tested out in Delhi). And for this new map, the company has gleaned relevant data from half a million environmental measurements collected from 11,000 stations. The tool can estimate not only the extent of air pollutants in these cities, but also anticipate where the pollutants are wafting.  
"The data revolution can help policymakers cut air pollution and communities take back control of their environment," the company wrote in a press release.
On the map, each city for which measurements are currently available is represented as a hexagon, which varies in size according to metro area population. Its color depends on where it is on Plume's air pollution index, which aggregates measurements of carbon dioxide, ozone, and particulate matter levels in the atmosphere, TechCrunch explains. The darker the hexagon, the more polluted the city is.
New Delhi, for example, is the dark grey hexagon located at the heart of the Indian subcontinent:

Clicking on the hexagon pulls up a little summary of the air quality in the city. Delhi, as is evident below, doesn't look great right now:

On the other hand, here's the air report from Paris:

This map is also available in app form so that people can consult the 24-hour pollution forecast before heading out of their house to exercise. Here's TechCrunch's Romain Dillet again, reporting on the app's utility for users in Paris:
Co-founder and CEO Romain Lacombe told me that many early users in Paris have already changed their habits when it comes to deciding when to run. Sometimes, it's better to delay your run by a few hours to avoid a pollution peak.