Inside-Trader Nacchio's Bittersweet Victory Over Goldman
by
Former Qwest chief savors $14 million award from GS unit

Glad `I could go before a jury and have them believe me'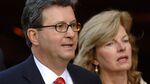 For Joseph Nacchio, the former Qwest chief who went to jail for insider trading in the aftermath of the Enron bust, justice in civil court was swift and bittersweet. 
Nacchio won a $14.2 million insurance case verdict late last week against a Goldman Sachs Group Inc. unit, Ayco, and a financial adviser, David Weinstein, who helped convict him in 2007 of using confidential information to trade Qwest shares. 
Weinstein sold Nacchio and his wife insurance policies in 2000 for a $4.5 million premium that they believed had a death benefit of $94.8 million. It wasn't until a new adviser reviewed his accounts years later that Nacchio learned the policies were far more complicated and risky than he knew, he said. 
"He perpetrated a negligent action on us. He breached his fiduciary duty to us," Nacchio, 66, said in an interview. "He cost us millions and millions of dollars. This had nothing to do with him testifying against me." 
Over the past month in state court in Morristown, New Jersey, defense lawyers branded Nacchio a rich felon who lied when he said Weinstein failed to warn him about the risks of variable life insurance policies he sold to Nacchio and his wife in 2000. After 75 minutes, jurors found that Weinstein was negligent and had breached his fiduciary duty.  
"We are disappointed in the verdict and we plan to appeal," said Ayco spokesman Brian Cuneo.
Nacchio, who was convicted of illegally selling $52 million in shares of his own company, said he has a "very tarnished view of the American justice system" but is satisfied with the jurors' verdict in the Ayco/Weinstein case and was glad to get a chance to take the stand.
"I could look that jury in the eye and tell them what I believed to be the truth," he said. "I feel partial vindication that I could go before a jury and have them believe me."
Nacchio told the jurors of his modest upbringing in a tenement in Brooklyn, New York, the son of a longshoreman-turned-bartender and a homemaker. He recalled his swift rise through the ranks at AT&T Inc., his introduction to Weinstein in 1986, and how Weinstein advised him when he grew wealthy after joining Qwest in 1997, serving as chairman and chief executive officer. He said Weinstein stopped talking to him in 2005. 
He testified that Weinstein was "a trusted adviser" and a close friend. "I went to David's son's bar mitzvah. He came to our 25th wedding anniversary," he said. "He knew my kids. I knew his kids. I think David and the family visited me at the shore house one summer with the kids."
The trial never generated the front-page stories that riveted Denver in 2007, when prosecutors depicted Nacchio as a greedy executive who misled investors while he sold shares of Qwest Communications International Inc. in 2001 based on private warnings that the company would miss revenue targets. 
Nor did the $18 million refund Nacchio and his wife won in April for federal taxes paid on gains from the illicit sale of the Qwest shares. The Nacchios had sued the U.S. in 2012, and the parties settled. Both sides are appealing. 
Not even Nacchio's attorney underwear lawsuit got that kind of press. This was the 2011 complaint against his insider-trading defense lawyers. He claimed they had billed him more than $25 million to defend him in criminal and civil matters, charging tens of thousands of dollars for staff breakfasts, in-room movies and underwear during the trial in federal court in Denver. The lawsuit is going to trial.
Nacchio sued Ayco from prison in 2010. He canceled the policies and paid for new coverage. The Nacchios claimed they paid $14 million more than they should have paid in 2000 for the coverage they thought they were buying at the time.
Lawyers for Ayco, which Goldman Sachs bought in 2003, argued that the risks were fully disclosed by Weinstein, his firm and the Nacchios' estate planning attorney.
Nacchio, who built Qwest into the fourth-largest U.S. phone company before presiding over a $100 billion drop in its market value, never testified in the insider-trading trial. He went to prison for 4 1/2 years, was fined $19 million and agreed to forfeit $44.6 million. Qwest is now part of CenturyLink Inc.
In his testimony as a prosecution witness in Denver, Weinstein, who worked as Nacchio's financial adviser for 19 years, detailed Nacchio's personal finances and transactions, citing a net worth of $547 million in December 2000.
At the sentencing, U.S. District Judge Edward Nottingham said that "in many ways, Mr. Nacchio is the classic Horatio Alger story, somebody who rose from immigrant parents and rose to enormous heights by sheer will and talent. Mr. Nacchio was what this nation expects from corporate executives -- aggressive, tough, and demanding."
Still, the judge said, he had committed "crimes of overarching greed."
Nacchio joined a growing list of CEOs sentenced to prison in the wave of U.S. prosecutions that began after Enron Corp. went bankrupt in 2001 -- among them ex-WorldCom Inc. founder Bernard Ebbers and former Enron CEO Jeffrey Skilling. At the Schuylkill Federal Correctional Institution in Minersville, Pennsylvania, Nacchio joined former Cendant Corp. Vice Chairman E. Kirk Shelton and ex-Rite Aid Corp. chief counsel Franklin C. Brown.
He served four years in two prisons and six months in a halfway house and became a free man on Sept. 21, 2013.
"Most people who are wronged by big financial institutions like Goldman Sachs don't have the financial resources to fight them," Nacchio said. "These seven [jurors] who were average citizens sat there and listened and heard all the biases and bigotry. They agreed that they would not let the fact that someone is a convicted felon influence them. They held to their word. That's courageous. You don't see that often in our society."
The case is Nacchio v. Weinstein, L-3298-10, Superior Court of New Jersey, Morris County (Morristown).
Before it's here, it's on the Bloomberg Terminal.
LEARN MORE