Indian Tycoons Tap Fuel Rush at Home as China Stokes Glut
by and
Essar Oil says a jump in Indian fuel consumption will continue

Economic growth, deregulation signal improving Indian margins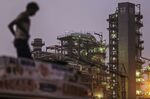 In a world awash with diesel supplies, there's no place like home right now for India's refinery tycoons as accelerating economic growth and government policy changes stoke local fuel demand.
Essar Oil Ltd., controlled by the billionaire brothers Shashi and Ravi Ruia, predicts a rapid recent domestic expansion in industrial and automotive consumption will continue. Reliance Industries Ltd., run by India's richest man Mukesh Ambani, moderated some exports as the fastest gross domestic product growth among major economies spurs purchases in the South Asian nation.
"There's been an upsurge in India," Lalit Kumar Gupta, chief executive officer at Essar Oil, said in an interview from Mumbai. "This demand expansion will continue. Private-sector refiners, who were exporting these fuels, are increasingly looking to sell more in the domestic market."
Indian purchases are emerging as a bright spot and providing the nation's refiners with a buffer against a darkening export outlook. Diesel globally may swing into oversupply this year and prices are set to decline, according to BMI Research. Low crude costs, a flood of Chinese shipments and uneven world economic growth are weighing on that market.
Price Controls
Prime Minister Narendra Modi's government scrapped diesel-price controls in 2014, making retail sales more viable for private-sector refiners. Officials have also increased infrastructure outlays and are trying to revive industry.
Essar and Reliance control about 4 percent of the retail market for diesel and gasoline, state-run Bharat Petroleum Corp. estimates. Two other state-run companies -- Indian Oil Corp. and Hindustan Petroleum Corp. -- along with Bharat Petroleum account for the rest. That signals the competition private-sector companies face, as well as the scope to grab market share.
Tushar Pania, a spokesman for Reliance Industries, declined to comment. The company cut petroleum product exports by more than 6 percent in the first nine months of 2015, according to Bloomberg News calculations based on earnings statements.
Reliance is the operator of the world's biggest oil-refinery complex, and the stock has climbed about 23 percent in the past year. That compares with an 11 percent drop in the benchmark S&P BSE Sensex index. Essar Oil, India's second-largest non-state refiner, is delisting from Indian stock exchanges.

Aside from cars and trucks, diesel's uses range from irrigation pumps to factories and railway engines -- and growth of more than 7 percent in Asia's No. 3 economy is boosting such demand.
"Refiners are expanding in the bulk market and have plans to grab more share of retail with fuel deregulation," said Dhaval Joshi, an oil and gas analyst at Emkay Global Financial Services Ltd. "They've started getting bulk diesel supply orders from the likes of Indian Railways, which further strengthens their margin outlook."
India's fuel demand surged for the 13th straight month in November -- aided by diesel and gasoline consumption -- and oil-product exports slid, Oil Ministry data show. The International Energy Agency projects Indian energy consumption will more than double by 2040.
Private-sector refiners are taking advantage of India's policy changes, according to Essar.
"Deregulation of prices is helping private refiners to expand their retail operations and sell more fuels through their own outlets," Gupta said.
Before it's here, it's on the Bloomberg Terminal.
LEARN MORE