Honda Seeks Sports Fans With Pickup for Parking Lot Parties
by
Pickup returns from hiatus with in-bed trunk, audio system

Detroit automakers claimed 85% of U.S. pickup sales in 2015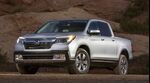 Honda Motor Co. is showing it's learned a thing or two about American sports culture with a reborn pickup truck made for tailgate parties.
The Japanese automaker returns to the U.S. pickup market after almost two years on the sidelines with the 2017 Ridgeline, debuting Monday at the North American International Auto Show in Detroit. In an industry first, the truck will feature an in-bed sound system and trunk for storing burgers and beverages.
The Ridgeline represents a Hail Mary by Honda to appeal to American truck-buyer tastes, an effort that's so far eluded Japanese automakers. While Honda, Toyota Motor Corp. and Nissan Motor Co. have excelled at cracking the car and sport utility vehicle segments, Detroit automakers accounted for 85 percent of U.S. pickup sales last year, their highest market share in 11 years.
"It's an acknowledgment of what this truck is really going to be used for," said Rebecca Lindland, an analyst for Kelley Blue Book. "It's not going to pull space ships. It's going to be used as a weekend vehicle."

Honda set a U.S. sales record last year without benefiting from booming pickup sales, driven by SUVs including its top-selling CR-V. The Tokyo-based company will look to build on its success in light trucks, introducing both the new Ridgeline and a redesigned Odyssey minivanthis year.
The original Ridgeline debuted in 2005 and saw its sales peak the following year at just 50,193 units. By comparison, Ford Motor Co. sold 15-times more F-Series pickups in the U.S. last year. Honda's truck was hamstrung in part by its looks, said John Mendel, executive vice president of Honda's U.S. sales unit.
"People didn't really want to have to keep explaining why they bought that truck," Mendel said in an interview. "The design was somewhat polarizing. Traditional truck buyers felt like it was a little bit too far out there, even though the capability was there."
Boxier Looks
The new Ridgeline has boxier looks more typical of traditional pickup design, doing away with the previous version's sloped truck bed rails. Within the bed, its audio system includes six embedded speakers inside the bed walls that can pump out tunes at 540 watts. 
Unloading tents and tables outside stadium parking lots is made easier by a tailgate that remains hinged at both the side and the bottom. This also provides more convenient reach to a 400-watt power inverter in the bed wall to plug in blenders and televisions.
Inside the truck's cabin, Ridgeline becomes the latest Honda model to offer an 8-inch display with compatibility for Apple Inc.'s CarPlay and Google's Android Auto phone-connectivity systems, following the Civic compact car, Accord sedan and NSX supercar. Safety features include lane-departure and forward-collision warning, collision- and road-departure mitigation, lane-keep assist and a standard multi-angle, rear-view camera.
Competitive Segment
Honda is returning to a much more competitive midsize truck segment compared with when Ridgeline ended production in 2014. Toyota redesigned its Tacoma pickup for the first time in a decade in 2015, shortly after General Motors Co. returned to market with the Chevrolet Colorado and GMC Canyon.
Sales of those three models, which accounted for about four out of every five midsize pickups sold, surged 77 percent last year. Their popularity sealed the best year for U.S. compact trucks since 2008.
Before it's here, it's on the Bloomberg Terminal.
LEARN MORE