Hedge Funds Greet 2016 by Curbing Bullish Oil Bets to 5-Year Low
by
Speculators cut net-long positions 24% in week to Jan. 5: CFTC

U.S. benchmark crude drops to the lowest since February 2004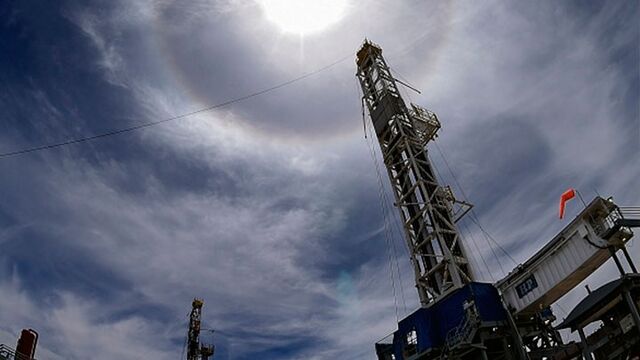 Money managers began the new year by reducing wagers on rising oil prices to the lowest level in more than five years.
Oil tumbled in the first days of 2016 as a global glut outweighed an increase in tension between Saudi Arabia and Iran. The decline accelerated as turmoil in China's markets bolstered concern that an economic slowdown in the world's biggest commodity-consuming nation is worsening.
"The start of this year has been one of the worst of all time for multiple asset classes," said Bob Yawger, director of the futures division at Mizuho Securities USA in New York. The rout is likely to extend into this week, he said.

Speculators' net-long position in West Texas Intermediate crude fell 24 percent in the week ended Jan. 5, data from the U.S. Commodity Futures Trading Commission show. Longs dropped to a five-month low as shorts rose.
WTI fell 5 percent to $35.97 a barrel in the report week on the New York Mercantile Exchange. Prices dropped as much as 2.8 percent on Monday and traded at $32.47 at 9:59 a.m.
Crude stockpiles at Cushing, Oklahoma, the delivery point for WTI, rose to a record in the week ended Jan. 1, U.S. Energy information Administration data show. Swelling supply sent WTI down 30 percent in 2015.
China Selloff
A selloff in China's stock market spread around the world last week, sending commodities and equity markets lower. The world's richest 400 people lost almost $194 billion, according to the Bloomberg Billionaires Index. Concern deepened over the ruling Communist Party's ability to manage an economic slowdown. China probably consumed 11.3 million barrels of oil a day last year, 12 percent of the global total, according to the International Energy Agency.
Saudi Arabia severed ties with Iran after an attack on its embassy in Tehran by demonstrators protesting the execution of a Shiite cleric. The kingdom's Arab allies took similar steps, as Qatar, the United Arab Emirates and Kuwait recalled their envoys, according to those countries' state news agencies.
Saudi Arabia was the biggest oil producer in the Organization of Petroleum Exporting Countries last month, while Iran was the fifth-largest, according to data compiled by Bloomberg. Saudi Aramco, as Saudi Arabia's state-owned oil monopoly is known, confirmed Jan. 8 it is studying options for a share sale.
"The fundamentals haven't changed but sentiment has," said Sarah Emerson, managing director of ESAI Energy Inc., a consulting company in Wakefield, Massachusetts. "Worry about China has led to greater pessimism about the demand picture."
Longs Drop
Speculators' net-long positions in WTI fell by 23,863 contracts to 76,934 futures and options, the lowest since July 2010, CFTC data show. Longs, or bets that prices will rise, dropped 2.5 percent to the lowest since July, while shorts climbed 11 percent.
Speculators took the opposite view with Brent crude, the North Sea grade used as a benchmark around the world. Money managers increased net-long positions in Brent by 21,380 contracts to 185,052, the highest level since Nov. 10. Their long positions were at 321,067 lots, the most since May.
In other markets, net bearish wagers on U.S. ultra low sulfur diesel decreased 11 percent to 31,298 contracts. Diesel futures slid 0.4 percent in the period. Net bullish bets on Nymex gasoline slipped 4.3 percent to 27,182 contracts as futures dropped 1.5 percent. 
Falling prices have led oil companies to cut spending, setting the stage for a market rebound later this year, according to Mike Wittner, head of oil-market research in New York at Societe Generale SA. 
Rigs targeting oil in the U.S. fell to 516 last week, the lowest since April 2009, according to Baker Hughes Inc. The Permian Basin in West Texas, the most active U.S. shale play, led the decline, with nine rigs down and 200 remaining.
"We still think the market will recover in the second half of the year, driven by a more visible decline in U.S. shale production," Wittner said. "U.S. shale output will be a major focus this year."
Before it's here, it's on the Bloomberg Terminal.
LEARN MORE