Goldcorp to Consider Expanding Outside of Americas to Africa
by
Incoming CEO Garofalo says he also may look at east Europe

He says gold could dip to $1,000 an ounce before rebounding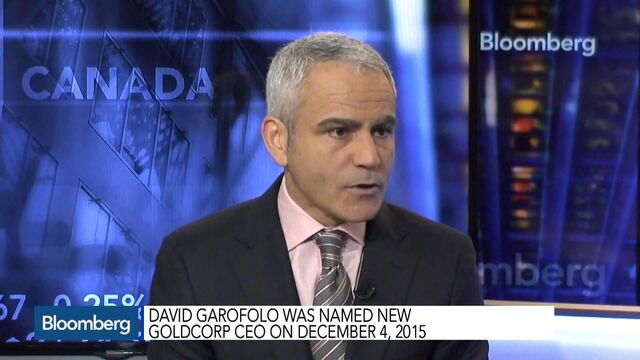 The new head of Goldcorp Inc. says the world's largest gold company by market value plans to look beyond the Americas to Africa and Europe for opportunities to expand.
Goldcorp has counted its relatively small global footprint as a strength. But as the Vancouver-based gold producer finds fewer opportunities close to home, it's time to cast a wider net, David Garofalo, the company's incoming chief executive officer, said in an interview in Bloomberg's Toronto office.
"If there's anybody who's positioned to take on a little more political risk, it's Goldcorp, given its premium market cap relative to our competitors," Garofalo, 50, said on Monday. "There are some jurisdictions within Africa that might make some sense and Europe, Eastern Europe in particular."
Currently all of the company's operations are in the Americas, including Canada, Mexico and Argentina. It's a strategy Goldcorp Chairman Ian Telfer has often cited as key to simplifying operations and minimizing risk. Yet opportunities to find new assets in the America's that meet Goldcorp's ideal criteria -- low-cost mines capable of producing half a million ounces of gold a year -- are slim, Garofalo said.
Similar Approach
The company has no intention of wading into high-risk political zones, such as Russia or China but Garofalo repeatedly mentioned Africa as an attractive possibility. "There are some good investment-grade countries within Africa that would look quite good in our portfolio, assuming the quality of the asset," he said.
Garofalo will officially become CEO in April, after Chuck Jeannes, 58, retires. A self-professed "reformed base-metals guy," Garofalo has worked in Canada's natural-resources sector for decades, including at Agnico Eagle Mines Ltd. and Inmet Mining Corp, and comes to Goldcorp from HudBay Minerals Inc. where he'd been CEO since 2010.
Having known Jeannes for 17 years, Garofalo says they have a similar approach to management, and he plans to continue Jeannes's strategy of constantly evaluating assets -- including selling higher-cost, smaller scale mines that no longer make sense.
Development Stage
"Too many mining executives think of their mining assets as children and you might as well sever a limb rather than sell the assets. Chuck's never been like that and nor have I: we've sold as many things as we've built," he said.
"There are probably a few assets within the Goldcorp portfolio that don't move the needle," he said, while declining to be more specific. He said the company is also open to more joint ventures such as its August deal, with Vancouver's Teck Resources Ltd., to combine two copper-gold projects in Chile.
In term of acquisitions, development stage mines offer the best value in this market, although Goldcorp would also consider buying operational mines, he said. Smaller poly-metallic assets also provide a cost advantage and, in a separate interview with Bloomberg TV Canada, Garofalo said "I wouldn't be surprised to see a bit more copper and zinc in our future." However, the company doesn't plan to diversify into base metals beyond by-products, nor would it consider selling gold streams on any of its mines to build up its war chest.
Gold Price
The industry is likely to have to deal with declining gold prices for some time, Garofalo said. "What will underpin gold will be a change in the tightening cycle to one where monetary policy is being eased again which I think is probably several years away," he said. "We might see $1,000 before we see $1,500," he said, referring to the price per ounce.
Gold for immediate delivery fell 0.9 percent to $1,094.31 an ounce at 4:43 p.m. on Monday in New York, according to Bloomberg generic pricing. Bullion, which has declined for three consecutive years, has risen 3.1 percent so far in 2016.
Goldcorp shares fell 5 percent in Toronto compared with a 3.5 percent drop in the Standard & Poor's/TSX Global Gold Index. The company's shares have dropped 35 percent in the past 12 months versus a 22 percent decline in the index over the same time frame. The company disappointed investors in October with a third quarter loss.

Gold miners are in the process of recalculating reserves based on gold at $1100, rather than the $1200 figure that was more prevalent in 2015 and reserves will likely be lowered industry-wide, Garofalo said.
Goldcorp won't release guidance ahead of its fourth quarter results this year as it has done in the past, he said. The company's 2015 guidance is for production of 3.3 to 3.6 million ounces of gold. Garofalo reiterated that the company's portfolio of mines and strong balance sheet leave it well positioned to weather the downturn. The company is due to report on Feb. 25.
"I think it's extremely well positioned to generate free cash flow even in a thousand dollar gold price environment," Garofalo said.
Before it's here, it's on the Bloomberg Terminal.
LEARN MORE