Electrolux CEO McLoughlin to Leave After Collapse of GE Deal
by and
CEO replaced by Jonas Samuelson, EMEA major appliances head

Samuelson will focus on cost cutting, product development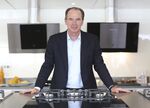 Electrolux AB said Chief Executive Officer Keith McLoughlin will step down in favor of Jonas Samuelson after the Swedish manufacturer failed to land a $3.3 billion deal to buy General Electric Co.'s household goods business following a 15-month pursuit.
McLoughlin, 59, cited family reasons for his decision to retire and move back to the U.S., where he will continue to work for Electrolux on a consultancy basis, the Stockholm-based company said in a statement on Monday. Samuelson, who heads the company's major appliance operations in Europe, the Middle East and Africa, will continue to focus the maker of fridges, ovens and dishwashers on product development and cost controls, he said on a conference call for reporters and analysts.
"This work will never be finished," Samuelson said. "We'll continue to improve cost, quality and flexibility."
Electrolux pursued the GE deal to gain scale in the U.S. market and went to court to fight the U.S. Justice Department's claims that the combined company and rival Whirlpool Corp. would be dominant in U.S. cooking appliances. The deal was announced in September 2014 and a trial was under way in Washington when GE announced Dec. 7 it was abandoning the plan because of regulatory opposition.
Smaller Acquisitions
Chairman Ronnie Leten said the company will pursue organic growth and consider smaller acquisitions if it identifies appropriate targets. Samuelson will elaborate on the company's strategy at a capital markets day Feb. 24, the chairman said.
Samuelson, who joined in 2008 and is a former group chief financial officer, has a track record that "speaks in his favor," Kepler Cheuvreux analyst Johan Eliason said by phone, citing a significant profit improvement at the European major appliances unit under Samuelson's leadership. "I think a large part of that improvement can be attributed to him and his crew in Europe," Eliason said.

The company's shares were little changed at 195.20 kronor as of 2:12 p.m. in Stockholm, valuing the business at 60.3 billion kronor ($7.1 billion).
After the collapse of the GE deal, Electrolux unveiled a plan to cut costs and jobs at its small-appliance unit, which it said was unrelated. The manufacturer paid GE a breakup fee of $175 million, and said the transaction and integration costs from the failed deal would be about 175 million kronor in the fourth quarter while expenses related to a bridge loan would be 225 million kronor.
The GE deal would have allowed Electrolux, the maker of Frigidaire appliances, to better compete with Whirlpool and Asian manufacturers.
In trying to reach its 6 percent operating margin target, Electrolux might turn more attention to developing markets, and "there could be good opportunities for acquisitions as the development in those countries is weak at the moment," Eliason said.
Before it's here, it's on the Bloomberg Terminal.
LEARN MORE