Deutsche Bank: Some of the Things You've Been Told About Buybacks Are Wrong
by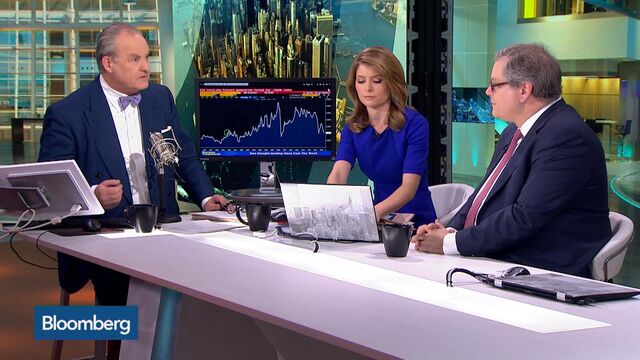 Rumors of share buybacks' death have been greatly exaggerated, according to Deutsche Bank analysts.
While such buybacks have helped propel the equity market's recovery in the years following the financial crisis, many analysts have been calling for a slowdown in share repurchases as corporate leverage increases and investors stop rewarding companies for buying back their stock. However, Deutsche Bank analysts led by Binky Chadha reckon there is still plenty of room to go, firing off a note to clients about the "myths" and "realities" of share buybacks.
Here's what they say.
Myth 1: Buybacks are peaking
Share buybacks are near their peak in U.S. dollar terms but look a bit different contrasted against earnings, according to Deutsche Bank. "The dollar value of S&P 500 net buybacks of $445 billion over the last 12 months is running slightly below the 2007 peak of $470 billion," Chadha says. "However, the buyback payout ratio, i.e., buybacks as a proportion of earnings, at 42 percent, is running well below the previous peak of 60 percent. At this buyback payout ratio, buybacks would be $600 billion or 35 percent above current levels."

Myth 2: All buybacks are financed by debt
While companies have certainly increased their borrowings in the bond market to help reward shareholders, Deutsche Bank points out that they would still be able to cover the cost of buybacks without issuing fresh debt. "In the aggregate, S&P 500 operating cash flow fully covers dividends, capex and buybacks," the team says. "The share of companies issuing debt to cover payouts in excess of free cash flow has been rising as is typical over the cycle, but at around half currently, it is still well short of previous peaks; leverage for this group of companies does not look high."

Myth 3: Higher interest rates will cause buybacks to "taper off"
Many have worried that once the Federal Reserve started to raise interest rates, the cost of funding buybacks through debt would increase and share repurchases would begin to decline. However, Deutsche Bank points out that higher interest rates usually occur in tandem with more buyback activity thanks to the vagaries of the economic cycle. "Historically buybacks are positively correlated with rates, with both being driven by a common driver, namely the economic cycle," the team writes. "In the previous cycle for example, buybacks had been rising at a very modest pace till mid-2004 despite the recession having ended three years earlier. Once rates began rising starting in mid-2004, buybacks grew rapidly over the next three years from $80 billion to $470 billion. Buybacks then tapered off in fact after rates were cut heading into the recession."

Myth 4: More buybacks means fewer capital expenditures or dividends
Deutsche Bank points out that all three of these forms of corporate action have been increasing at a strong pace, though buybacks have led the charge. "In reality buybacks are just more cyclical and are cut far more during recessions and then rebound more strongly during the recovery," the analysts write. "Buybacks for the S&P 500 ex-financials fell from a peak of over $400 billion in 2007 to under $70 billion in 2009, a drop of 80 percent. ... In sharp contrast, capex fell by a much smaller 18 percent during the recession and robust growth since means it is now 20 percent above the previous peak. Similarly, dividends fell by a relatively modest 11 percent and are now almost 75 percent above their previous peak."

Myth 5: Earnings only reflect buybacks
Bears often point to the idea that buybacks have helped propel earnings per share (EPS) in what would otherwise have been a period of stagnant growth. Deutsche Bank begs to differ. "Of average 6.3 percent a year in S&P 500 EPS growth, buybacks have contributed 1.6 percent a year. So [three-fourths] of EPS growth does not reflect buybacks." 

Given all of this, Deutsche Bank is calling for overall buybacks to grow by 1 percent to 2 percent in 2016, with the commodities space holding them down from what would be higher levels. With stock markets last week experiencing their worst start to the year in decades, they'll need all the buyback-boosted help they can get.
Before it's here, it's on the Bloomberg Terminal.
LEARN MORE