business
Citigroup's Buiter Sees One-in-Three Chance of U.K. Exiting EU
By
Buiter says EU would drive hard bargain on `Brexit' terms

A terrorist attack in U.K. could create `ugly foreigners' fear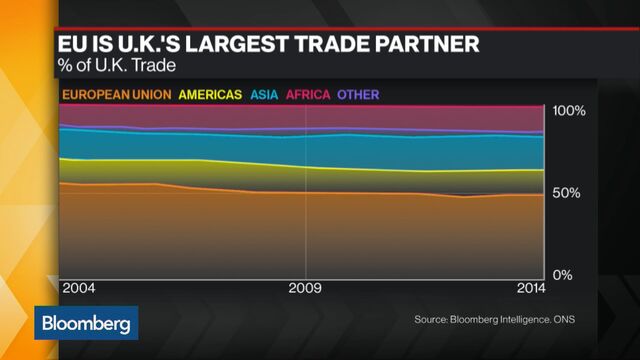 Citigroup Inc. Chief Economist Willem Buiter placed about a one-in-three chance on the U.K. voting to exit the European Union, as Prime Minister David Cameron struggles to wring concessions from his EU partners.
Speaking to reporters in Dublin on Monday, Buiter said it's "pretty likely" the U.K. vote will be held in the summer, adding that investors are only beginning to recognize the "serious risk" of a "Brexit." Should the U.K. opt to leave the bloc, the EU would seek to negotiate tough exit terms, Buiter said.

An exit would be "be a disaster for Britain," said Buiter, who sees a 35 percent chance of this happening. "To discourage a repeat, the 27 remaining EU members would strike an extremely tough bargain with the U.K. It would be years of destructive uncertainty."
Cameron told the BBC's "Andrew Marr Show" on Sunday that he is aiming to reach a deal on EU membership terms next month, paving the way for a national vote on whether to stay or leave soon after. The British government wants the EU to cut its bureaucracy and trade barriers, differentiate between rules for countries inside and outside the euro area and limit benefits for immigrants.
Buiter said a terrorist attack in the U.K. in the run-up to a referendum could boost support for exiting the bloc.
"If ISIS pulls a Paris in a British city within two months of the referendum, the emotional response could well be Brexit, even though the logical conclusion would be let's strengthen the EU quickly," said Buiter. "People will vote on the belief that if ugly foreigners blow us up, then the EU is just another bunch of ugly foreigners, we don't want them either."
Not Disastrous
The pound traded as low as $1.4477 on Tuesday, its weakest since June 2010, after a report showed U.K. industrial production fell the most in almost three years in November. Sterling has declined 6.5 percent over the past six months, partly driven by concern over the prospect of the U.K. exiting the EU.

Still, some investors are more sanguine, with Martin Gilbert, chief executive officer of Aberdeen Asset Management Plc, saying in an interview with Bloomberg Television on Tuesday that a U.K. vote in favor of leaving the EU would be "inconvenient but would not be too disastrous" for the fund manager.
(
Updates with pound in seventh paragraph, Martin Gilbert comments in last.
)
Before it's here, it's on the Bloomberg Terminal.
LEARN MORE