China's Demand for Crude is Showing Signs of Cracking
Resilient supply isn't the only problem for crude.
By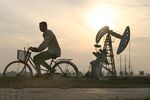 When looking for the prime culprit behind widespread weakness in commodity prices, fingers often point squarely at China.
On the supply side, especially in select metals, the world's second-largest economy deserves a hefty portion of the blame for the rout.
But in the case of crude, China has responded to lower prices with a jump in demand, says Barclays' Commodities Analyst Miswin Mahesh. Although, as he notes, there are signs that this increased appetite may soon wane.
Getting a handle on China's true oil demand is notoriously difficult, and estimates will vary widely depending on which analyst you ask. While Mahesh projects that the demand for oil in the world's second-largest economy grew by 5 percent in 2015, he cautions that: "Chinese oil data are finally starting to reflect weak economic activity."
In November, implied oil demand contracted by 2 percent relative to the same period in the previous year, the first such decline since July 2014. 
Demand for gasoline remains solid, the analyst notes, but the moderation in the 'old' industrial segments of the economy has dampened the use of diesel.

The moderation in China's economic expansion entails a decrease in the rate of—and sheer size of—demand growth this year, according to Barclays.
"In 2016, we expect Chinese oil demand to grow at a slower pace, of 300,000 barrels per day (3 percent) versus the estimated 510,000 barrels per day in 2015, reflecting the country's economic slowdown," he concludes.
From 2011 through 2014, implied year-over-year oil demand growth averaged 361,000 barrels per day, according to Mahesh.
As Morgan Stanley sees crude falling to $20 per barrel on U.S. dollar appreciation, it's troubling to imagine how bad things could get in the event that the magnitude of the slowdown in Chinese demand growth is larger than Barclays anticipates.