U.S. Stocks Rise as Energy Shares Shrug Off Oil Slump Below $30
By and
WTI crude's dip to $29.93 a barrel underpins Treasury gains

China tries to stabilize yuan, buying currency in Hong Kong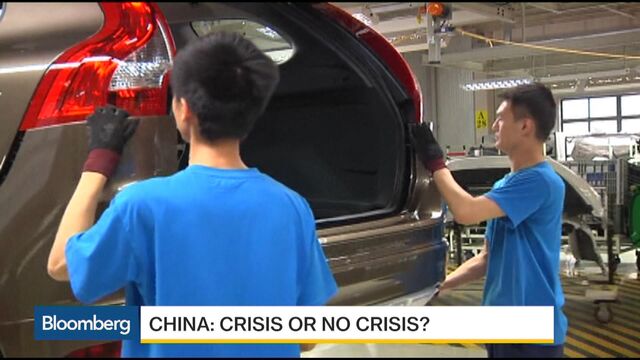 U.S. stocks built on their rally, rising for a second day amid speculation the China-fueled selloff that has coursed through global financial markets this year has gone too far. Treasuries climbed as oil dipped below $30 a barrel for the first time in 12 years.
Gains in the Standard & Poor's 500 Index gathered pace in the last 45 minutes of U.S. trading, led by technology shares as the Nasdaq Composite Index ended its longest losing streak since 2008. Energy companies rallied despite crude's ongoing declines, with West Texas Intermediate futures settling at $30.44 a barrel after slipping to as low as $29.93. The drop in oil, which has fallen every day this year, fueled losses in other commodities. Yields on 10-year U.S. Treasury notes dropped seven basis points to 2.11 percent.

While China stepping up its defense of the yuan on Tuesday steadied markets somewhat, the deepening rout in raw materials is stoking concern over global inflation and the outlook for central bank policy. Global equities eked out their first one-day gain of the year after shedding more than $5 trillion in value since the start of 2016, with the Federal Reserve intent on raising borrowing costs despite forecasts for a retreat in U.S. company earnings. Reporting season kicked off after markets closed on Monday.
"We're slowly but surely finding a bottom in this selloff," Tim Ghriskey, who helps oversee $1.5 billion as managing director and chief investment officer at Solaris Asset Management, said by phone. "There's some talk out there that this blowout in energy provides some technical support, and that this is a short-term bottom forming. The pullback really wasn't based on much new news, therefore a 5 percent pullback based on a number of issues is probably all it's going to take."
Stocks
The S&P 500 rose 0.8 percent to 1,938.68 as of 4 p.m. in New York, reversing an earlier decline of as much as 0.5 percent to extend Monday's 0.1 percent climb. The U.S. benchmark's losses since the start of 2016 still leave it more than 9 percent below its all-time high set in May. The gauge is 3.7 percent above the bottom reached during its August swoon, which was also sparked by anxiety over the impact of China's slowing economy on global growth.
"This is a market that's been selling off very hard and is probably short-term oversold," said Alan Gayle, a senior strategist for Atlanta-based Ridgeworth Investments, which has about $42.5 billion in assets. "Trying to read the day-to-day implications from Chinese policy moves is exceptionally challenging."
Investors are also turning their attention to corporate earnings, after Alcoa Inc. unofficially kicked off the season. The aluminum producer slid 9 percent Tuesday amid a drop in sales, even after it predicted a shortfall in supply of the metal this year.
The Nasdaq Composite climbed 1 percent Tuesday, snapping an eight-day decline. The MSCI All-Country World Index rallied with U.S. equities, rising 0.3 percent after a six-day plunge that has left it down 6.3 percent this year.
Emerging Markets
Stocks in developing economies fell, even amid the U.S. gains, as Brazil's benchmark gauge declined for a fifth straight day and indexes in most Asian emerging markets retreated. The Micex index in Moscow rallied after valuations fell to their cheapest level in more than a year, with oil's decline diminishing the appeal of Russian assets.
Chinese shares seemed to stabilize following Monday's 5.3 percent selloff, rising 0.2 percent with the People's Bank of China said to have repeatedly intervened in the offshore market for the yuan. Two senior government officials also tried to talk up the currency on Monday.
Emerging-market currencies continued to fall, with Russia's ruble and Malaysia's ringgit leading declines versus the dollar, weakening by more than 0.6 percent amid the slump in crude oil. Russia is the world's biggest energy exporter and Malaysia is Asia's only major net oil exporter.
The yuan traded in Hong Kong temporarily erased its gap with the Shanghai exchange rate, after it widened to a record 2.9 percent last week. The currency was up 0.4 percent to 6.5839 per dollar in offshore trading Tuesday, rising for a fourth straight day.
Commodities
The Bloomberg Commodity Index, a measure of returns for 22 raw materials, dropped 0.9 percent to extend its lowest level since March 1999.
WTI crude slid more than 4 percent to fall below $30 for the first time since 2003, before paring losses to settle down 3.1 percent. Brent lost 2.2 percent to $30.86 a barrel.The CBOE Crude Oil Volatility Index, a gauge of anticipated swings in U.S. oil prices, closed on Monday at the highest level since February.
U.S. natural gas fell for a second day, slipping 5.8 percent to $2.257 per million British thermal units in New York, its biggest drop since Dec. 30. Forecasts showed above-normal temperatures in the U.S. Northeast and Midwest later this month, potentially crimping demand for the heating fuel.
Metals were lower on the London Metal Exchange, with copper falling 0.7 percent to $4,355 a metric ton, while nickel and aluminum dropped at least 0.6 percent. Barclays Plc cut its forecast on copper, saying recent Chinese data makes a recovery in the first half less likely. Zinc slid 0.9 percent.
Gold retreated for a third day, losing 0.5 percent in the spot market to $1,088.48 an ounce amid concern the slowdown in China will crimp demand for precious metals. Gold is still up 2.5 percent for the year after last week's risk aversion fueled demand for haven assets.
Currencies
The yen rose as much as 0.5 percent versus the dollar amid desire for safer investments. It strengthened against 12 of the 16 major currencies tracked by Bloomberg, jumping 0.7 percent against the British pound. The pound fell against all its major counterparts after data showed U.K. industrial production unexpectedly contracted in November.
Currencies from nations that export raw materials retreated, with Canada's dollar down 0.4 percent, slipping for an eighth straight session, and the Australian dollar falling 0.2 percent.
The Bloomberg Dollar Spot Index, a gauge of the greenback against 10 major peers, added 0.1 percent, bringing its advance in 2016 to 1 percent.
Bonds
Treasuries resumed gains following losses earlier in the session, with 30-year yields down nine basis points, or 0.09 percentage point, to 2.88 percent.
"There's been this pervasive mentality that the global growth engine is impaired, and that's showing up in crude oil," said Aaron Kohli, a fixed-income strategist in New York for BMO Capital Markets, one of 22 primary dealers that trade with the Fed. "That's giving more strength to the rally."
Demand for haven investments has propelled Treasuries to a 0.7 percent gain this year through Monday, compared with 0.9 percent for the whole of 2015.
The U.S. prepared to auction three-year securities, a move that would add to the supply of debt that's among the most sensitive to the outlook for higher American interest rates.