Alfa Romeo to Boost U.S. Dealer Network for $70,000 Giulia Sedan
by
Giulia introduction set for third quarter amid fine-tuning

Getting model right is `critically important,' executive says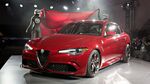 Alfa Romeo intends to expand its North American dealer network by one-third to about 200 outlets over the next 12 months to prepare for additional models starting with the delayed Giulia sedan.
The division of Fiat Chrysler Automobiles NV has postponed the long-awaited model by at least three months to the third quarter to avoid disappointing buyers. The Giulia, the first car produced on a new 1 billion-euro ($1.09 billion) component platform, will anchor a broader push into the U.S., where Alfa Romeo currently sells only the limited-run $55,900 4C sports car.
"It's critically important that the vehicle is right before we bring it out to market," Reid Bigland, head of Alfa Romeo's business in the region, said Monday in an interview at the North American International Auto Show in Detroit. "We are not going to get into a situation where we rush in something that isn't ready."
Alfa Romeo's expansion as a global competitor has been slowed by technical
issues and Fiat redirecting resources to the fast-growing Jeep brand amid car-
market woes in China and Brazil. The Italian sports-car marque's growth is a crucial part of Fiat Chrysler Chief Executive Officer Sergio Marchionne's goal of more than tripling net income by 2018.
The division will start the rollout of the Giulia with the $70,000 Quadrifoglio performance version. The entry-level Giulia will start at about $40,000, Bigland said. As a result of the sedan's delay, other Alfa Romeo vehicles will come out later than planned, Marchionne said on Monday in Detroit.
Marchionne confirmed that Fiat Chrysler plans to boost profit to 5 billion euros in 2018 from a forecast of about 1.2 billion euros in 2015. He withheld from committing to his earlier goal of boosting sales by almost 50 percent to 7 million cars.
Among models that Fiat Chrysler is delaying due to fading demand for cars in China are a Maserati-brand sports car, a full-sized Alfa Romeo sedan and the marque's first SUV, people familiar with the matter said last month.
Before it's here, it's on the Bloomberg Terminal.
LEARN MORE