Merkel's Refugee Woes Unbroken as Sexual-Assault Reports Rise
Patrick Donahue
Anti-immigration backlash spurs street violence in Cologne

Chancellor's open-door stance faces forces beyond her control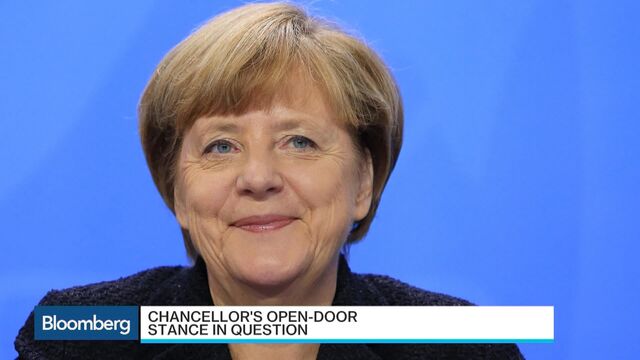 German Chancellor Angela Merkel surely can't take many more weeks like the last one.
Merkel's open-door refugee policy has been blown open with the revelation of the New Year's Eve sexual assaults, feeding opposition to migrants and widening the risks the chancellor faces at the start of 2016. With the number of women filing complaints soaring to more than 500 and the police seeking suspects, the latest stage in the crisis is still unfolding.
An anti-immigration protest in Cologne was broken up by police over the weekend, underscoring what's at stake as Merkel depends on forces outside her control for a solution. Progress on enlisting Turkey to stem the flow of refugees into the European Union is slow, conflict between Iran and Saudi Arabia threatens diplomacy on ending Syria's civil war and eastern EU countries such as Slovakia and Poland were balking at an EU resettlement plan even before the assaults.
"It's not a great start to the year," said Andrea Roemmele, a political scientist at the Hertie School of Governance in Berlin. "There has to be a true, solid, well thought-through integration plan. It's not going to just happen, it's a hard process -- for the refugees and for us."
While some social upheaval could be expected with the arrival of a record 1.1 million asylum seekers last year, the spectacle of scores of women being attacked in a melee of about 1,000 men in Cologne adds a "completely unexpected" dimension to Merkel's challenge, Roemmele said by phone.
Ralf Jaeger, the interior minister of North Rhine-Westphalia state, which includes Cologne, pledged on Monday to boost police forces and video surveillance during next month's Carnival festivities. "The state must show the citizens of Cologne that events such as the one on New Year's Eve won't happen again," Jaeger told reporters in the regional capital, Dusseldorf, after state lawmakers queried him about the security breakdown.
Cologne Clashes
As critics accuse Merkel of being too accommodating, the attacks compound an already inflamed debate about social integration and race that's beleaguering her 10-year chancellorship. National leaders of Merkel's Christian Democratic Union closed ranks over the weekend on a plan to lower legal barriers for expelling migrants who commit crimes.
The blowback was on display when police in Cologne clashed with some 1,700 supporters of the anti-immigration Pegida group on Saturday and at least seven foreigners were attacked Sunday in the downtown area where the New Year's assaults happened, according to a police statement.
"The events of New Year's Eve have dramatically exposed the challenge we're facing, revealing a new facet that we haven't yet seen," Merkel told reporters after she and other CDU leaders met Saturday in Mainz, near Frankfurt. She said lawbreakers would "forfeit their right to hospitality" by committing such violations.

Merkel, with no obvious successor in the CDU and still enjoying broad public support, is in no immediate political danger, Roemmele said. Party leaders at the weekend retreat in Mainz renewed their backing for Merkel's policy, which rejects a cap on migration and seeks to negotiate a reduction in the influx with the Turkish government.
Merkel's Party
Support for the ruling CDU increased 2 percentage points to 39 percent in a monthly poll for ARD television published Thursday, and the share of respondents advocating a migration limit declined to 61 percent, compared with 72 percent in December, according to the Infratest Dimap polling during the first week of January.
The German government denied a Financial Times report that Merkel had canceled a trip to the World Economic Forum in Davos, Switzerland, this month in response to the outrage at home. Merkel had never planned to attend the meeting, her chief spokesman, Steffen Seibert, said in a text message.
Merkel's plan relies heavily on the government in Ankara to move forward with pledges it's made to the EU. While Turkey has issued visa requirements for Syrians in a bid to ease the flow from its war-ravaged southern neighbor, efforts to scale back illegal migration over the Aegean Sea to Greece are "not yet satisfactory," she said.
The objective remains a "noticeable reduction" in migrant numbers, Merkel said, though she declined to provide a time frame or deadline.
Cologne police said Sunday that 516 women had filed complaints, about 40 percent of them alleging sexual assault. Police in Hamburg are investigating 133 complaints of crimes against women on New Year's Eve, spokeswoman Karina Sadowsky said Monday.
Of 32 suspects identified by police in the Cologne crowd, 22 are asylum seekers, according to the Interior Ministry in Berlin. As of Jan. 8, that group, initially identified as mostly "North African or Arabic" men, consisted of nine Algerians, eight Moroccans, five Iranians, four Syrians and an Iraqi. Three German nationals were counted, as well as a Serbian and a U.S. citizen.
Before it's here, it's on the Bloomberg Terminal.
LEARN MORE