Violent Protests in Cologne Test Merkel's Response on Refugees
by and
City police break up right-wing Pegida demonstration

Merkel has sought easier expulsion of law-breaking migrants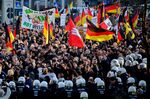 The New Year's Eve sexual assaults that prompted German Chancellor Angela Merkel to consider changes in refugee policy drew violent protests on Saturday that police had to break up with water cannons.
Some 1,700 supporters of right-wing group Pegida gathered in Cologne to demand action a week after scores of women reported being assaulted as they passed through a group of 1,000 men in front of the city's main train station. Police had to use force after demonstrators threw bottles and fire crackers at them, spokesman Thomas Held said.
With authorities describing last week's attackers in Cologne and other cities as mostly men of "North African or Arabic" origin, the refugee crisis that Merkel has called the most complex challenge of her 10-year chancellorship has intensified. She warned law breakers on Friday that they would "forfeit their right to hospitality here."
"The events of New Year's Eve have dramatically exposed the challenge we're facing, revealing a new facet that we haven't yet seen," Merkel told reporters Saturday in the western city of Mainz after a two-day meeting of leaders of her Christian Democratic Union.
Multiple Cities
Authorities identified at least 18 asylum seekers among the men who allegedly attacked and robbed women at the foot of Cologne's iconic Gothic cathedral Dec. 31 and Jan. 1. More than 120 women filed sexual-assault complaints with police, including two cases of rape. Police in Hamburg received sexual harassment complaints from 70 women. 
Standing next to Julia Kloeckner, the party's candidate seeking the re-election of a CDU-led government in the state of Rhineland-Palatinate, Merkel said leaders meeting at the retreat on the Rhine river stood by her position from last month's party congress on refugees, including the rejection of a limit on migrants.
After Germany took in some 1.1 million refugees in 2015, the German leader said her objective remains to "noticeably reduce" the influx this year, primarily by addressing the root causes, including the civil war in Syria, and seeking an agreement by Turkey to help protect the European Union's external border.
The Turkish government has undertaken a number of measures, though efforts to scale back illegal migration over the waters of the Aegean Sea to Greece were "not yet satisfactory," Merkel said.
In addition to ruling out an upper limit on migrants, Merkel also ruled out a timeframe for a possible reduction on Saturday.
Before it's here, it's on the Bloomberg Terminal.
LEARN MORE