For Hoverboards at CES, Patents Are a Marquee Feature
One Chinese company showed off framed copies of patents at the technology conference and boasted that it plans to sue competitors.
by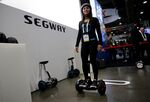 The Consumer Electronics Show is usually a place for technology companies to brag about how much faster, lighter, and thinner their products are than ones from competitors. Staff from the various hoverboard companies exhibiting at the world's largest gadget conference this week were eager to point to another feature: patents.
One Chinese maker of electric skateboards, Hangzhou Chic Intelligent Technology, brought along framed copies of its patents to CES in Las Vegas. The patents, which were filed in the U.S., Europe, and Japan, cover aspects of the device's design. The company, which currently only offers products wholesale, plans to sell to consumers under its own brand this year, said Ada Xian, an overseas manager staffing the booth. "We, ourselves, are suing the copycats," she said.
The Chinese company, which goes by the brand name Chic, had its display tucked away among other cramped, off-brand corporate booths on the outskirts of the show floor, alongside selfie sticks and low-cost drones. About a dozen companies there were hawking hoverboards and products resembling Segways. One such company showing off a one-wheeled skateboard had its booth raided by U.S. marshals and its wares confiscated.
Chinese hoverboard companies are facing criticism for copying, which makes Chic's patents something to brag about. But exactly who invented the hoverboard is something of a mystery. "What's interesting here is the speed at which a rather innovative device became commoditized and improved upon in a decentralized manner," said Benjamin Joffe, a general partner at Hax, a hardware incubator and investor with offices in San Francisco and Shenzhen, China. "There are hundreds of Shenzhen factories making them, most apparently building on existing designs to create sometimes better, simpler, and cheaper ones."
Segway, which has been selling self-balancing vehicles since 2001, said low-quality knockoffs risk harming its brand. Reports of injuries and faulty devices catching fire have soured some of the hype around hoverboards. "Over the holidays, we probably received about 100 calls a day in our customer care group with complaints about their Segway," said Brian Buccella, the company's vice president of marketing and business development. "And it wasn't a Segway; it was a hoverboard. That's not OK."
In 2015, China's Ninebot acquired Segway and is helping the brand make a renewed push toward mass adoption, something that's eluded the company in the past. Segway sued at least three hoverboard makers last year, including one named Swagway, claiming they infringed on patents. Another one of the targeted companies, called Inventist, is itself suing IO Hawk, a U.S. distributor of products made by Chic.
A few rows away from Chic's booth at CES, Airwheel was demonstrating a two-wheeled board. The company is in talks with Wal-Mart Stores about carrying its products, said Cilla Wu, Airwheel's sales director. Airhweel hopes its device does not infringe on any competitors' intellectual property. "To be honest, we don't have patents for hoverboards or single-wheel designs," Wu said. "That's why we are going with two wheels."
Before it's here, it's on the Bloomberg Terminal.
LEARN MORE