For Hoverboards at CES, Patents Are a Marquee Feature
One Chinese company showed off framed copies of patents at the technology conference and boasted that it plans to sue competitors.
By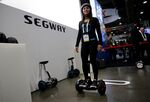 The Consumer Electronics Show is usually a place for technology companies to brag about how much faster, lighter, and thinner their products are than ones from competitors. Staff from the various hoverboard companies exhibiting at the world's largest gadget conference this week were eager to point to another feature: patents.