Catalonia Forms Separatist Government, Raising Pressure on Spain
by and
Former President Mas picks Girona Mayor to replace him

`Some kind of grand coalition' now a possibility in Spain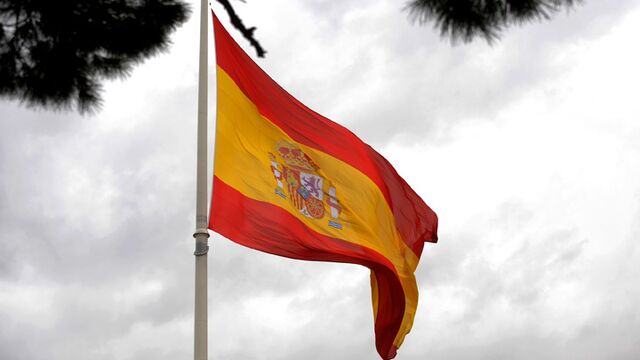 Catalonia formed a government dedicated to splitting from Spain, increasing the pressure on Spanish political leaders to find a way out of their post-election deadlock.
The regional assembly in Catalonia, Spain's biggest economic region, endorsed Carles Puigdemont, a 53-year-old former journalist, as president in an emergency session late Sunday, following the decision of former incumbent Artur Mas to stand aside and not seek re-election.
The new government will move ahead with plans to write a new constitution, create a central bank, expand the tax agency, and set up its own mechanisms for security and defense, Puigdemont said in a speech to the assembly on Sunday.
The end of a near four-month stalemate in Catalonia gives fresh urgency to politicians in Madrid to resolve an impasse of their own that resulted from inconclusive elections in December. With Catalonia accounting for about 20 percent of Spain's output, acting Prime Minister Mariano Rajoy may be able to use developments in Barcelona to strengthen his appeal to other party leaders to forge a coalition aimed at holding the country together.
"This should help negotiations in Madrid and accelerate the formation of a new government," said Jordi Munoz, a political science professor at Barcelona University. "It adds pressure for some kind of grand coalition."
Deadline Skirted
Puigdemont got the support of 70 out of 135 lawmakers in the parliament while 63 voted against and two abstained. The vote was completed shortly before 10 p.m. local time, ahead of a midnight deadline that would had required Mas to call elections.
"Long live free Catalonia," Puigdemont after the result was announced.
In a televised address before votes in the assembly were counted, Rajoy pledged to use the full force of the law to stop any act by the new Catalan government that goes against the Spanish constitution. "I am going to defend and preserve democracy throughout Spain," he said.
The eleventh-hour meeting on Saturday between the Junts pel Si ("Together for Yes") group led by Mas and the anti-capitalist party CUP gives the seats needed to form a coalition of pro-independence forces in Barcelona, and avoids the need to call new regional elections. The two parties have been negotiating since October.
"If there was a way to avoid elections, out of my patriotic sense I had to choose it," Mas said at a news conference in Barcelona on Saturday. "At this decisive moment, ways have been found to unblock things that it seemed couldn't be unblocked."
'Future is Ours'
"Next stop independence!" Oriol Junqueras, president of the Esquerra Republicana party, Mas' partner in Junts pel Si, said on his Twitter account on Saturday. "The future is ours."
Catalonia is a key piece of Spain's political jigsaw as parties at the national level seek alliances to build a majority government in Madrid. The prospect of Catalan independence is more than just a political threat the Spain's integrity: tax revenue raised from the 7.5 million Catalans is critical to the Spanish state's ability to fund its activities and service its debt.
Playing 'Chicken'
The secessionist challenge could put pressure on the Socialists to answer Rajoy's call for a broad-based coalition to protect Spain's unity and economic recovery, according to Antonio Barroso, a London-based political analyst at Teneo Intelligence. The Socialists, led by Pedro Sanchez, have so far dismissed any possibility of entering an alliance that would allow Rajoy to stay on as head of the government.
"The game of chicken between Catalonia and Madrid is going to get worse because they will want to push for an independent state," Barroso said by telephone. "It's going to get messy."
Rajoy's acting government called on Catalan leaders to abandon their plans to separate from the rest of the nation and stop "creating new tensions," saying that the legitimacy of Catalan institutions comes from Spain's constitution. The next national government should have a broad parliamentary base to confront the secessionist challenge, it said.
'Progressive Alliance'
Rajoy's People's Party took the most seats but lost its majority in the Dec. 20 election amid a rise in support for two insurgent parties. The People's Party returned 123 lawmakers to the Socialists' 90 seats, with anti-austerity Podemos taking 69 seats and liberal Ciudadanos 40 seats.
Socialist leader Sanchez has said he'll seek to put together a "progressive alliance" to topple Rajoy, but differences over Catalonia complicate his task. Podemos' insistence on a referendum for Catalonia is unacceptable to Socialist leaders and is proving an obstacle to Sanchez's efforts to forge an anti-People's Party pact.
Albert Rivera, leader of Ciudadanos, which placed second in Catalonia's elections with 25 seats after campaigning to remain a part of Spain, attacked the accord allowing the formation of a pro-independence Catalan government. Rivera, who is from Barcelona, described the deal as "pathetic" on his Twitter account.
"Mr Puigdemont is more of the same," said Ines Arrimadas, the head of Ciudadanos in the Catalan parliament. "There will be firm opposition."
Vowing Stability
Mas, who took over the regional Catalan government in 2010, failed to win the September regional vote outright, and was unable to secure the CUP's support for his presidency in talks since then. The CUP indicated in a statement after Mas' decision to stand aside that it would act in line with Junts pel Si "in a stable way."
The September elections left Junts pel Si with 62 seats in the 135-strong assembly, making Mas reliant on the 10 lawmakers from CUP to secure a separatist majority. A minority of Catalan voters -- 48 percent -- backed the independence platform in the election, leading the central government in Madrid to claim Mas didn't have a mandate to pursue his secessionist drive.
Puigdemont, now set to become Catalan president, became actively involved in politics in 2006. According to El Pais newspaper, in a 2013 speech he quoted Carles Rahola, a Catalan journalist executed by the Spanish dictator Francisco Franco's forces, saying that one day "the invaders will be expelled from Catalonia."
Before it's here, it's on the Bloomberg Terminal.
LEARN MORE