Race for Iowa
'Tax Wall Street,' Trump Pledges After Worst Market Week Since 2011
"When China goes bad, we go bad," the billionaire says.
By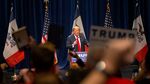 Republican presidential front-runner Donald Trump pledged to "tax Wall Street" as he sought to use a severe stock market selloff to plant new seeds of fear among voters during a campaign rally Saturday in Ottumwa, Iowa.
At times, the real estate mogul sounded more like Democratic presidential candidate Senator Bernie Sanders, a constant critic of Wall Street, than a billionaire candidate running for the Republican presidential nomination.  
"There's a bubble," Trump told his audience in southeastern Iowa, noting the nation's high level of debt. "You see the stock market is starting to, you know, see what's going on," he said. "It's starting to have some very bad weeks and some very bad numbers."
Volatility skyrocketed in financial markets last week as anxiety about economic growth - globally, and especially in China - increased. The Standard & Poor's 500 Index tumbled 6 percent on the week, the biggest drop since September 2011 and the steepest slide over five days to begin a year on record. 

Appearing on "Fox News Sunday," Trump said the market's dive highlighted a dangerous interdependence between the U.S. and China. "We are so tied into China, that when China goes bad, we go bad. We're just tied in, and we're tied in to their advantage, not to our advantage." 

Trump wrote an editorial in the "Wall Street Journal" in November decrying  the "wanton manipulation of China's currency" as a jobs killer for the U.S. 
Trump said his financial experience was right for such troubled times. 
"I'm really good at that stuff," he said in Iowa. "I know Wall Street. I know the people on Wall Street. We're going to have the greatest negotiators of the world, but at the same time I'm not going to let Wall Street get away with murder. Wall Street has caused tremendous problems for us. We're going to tax Wall Street."
Trump also highlighted his independence from campaign contributions. "I don't care about the Wall Street guys," he said. "I'm not taking any of their money."
The theater where Trump spoke seated about 700 and was filled an hour before his scheduled appearance, forcing hundreds more to stand in an indoor space set up with a video feed. 
Appearing in the top U.S. corn-producing state, Trump took several shots at Senator Ted Cruz of Texas, who is giving Trump a strong challenge, especially in the campaign for the Feb. 1 Iowa caucuses, the nation's first nominating contest for 2016.
"My primary opponent is totally opposed to ethanol and the ethanol industry because he's with the oil industry," Trump said. 
Joining with the ethanol lobby, Trump has criticized Cruz for opposing the federal Renewable Fuel Standard, which sets the minimum amount of corn-based ethanol and other biofuels that must be included in the nation's gasoline supply.
The junior senator from Texas has said that he supports ethanol, but doesn't want to see the federal government pick "winners and losers" in the energy sector.
Trump also continued a line of attack against Cruz from earlier in the week, suggesting that nominating him might be a dangerous thing for Republicans because Cruz was born in Canada. "He's got to straighten out his problem," Trump said. "You can't have that problem and go and be a nominee."
The reality television star refrained from repeating his comments about former President Bill Clinton's sexual transgressions, although a state senator who introduced him at Saturday's event couldn't resist. Brad Zaun, who is backing Trump, referred to the former president, and husband of Democratic front-runner Hillary Clinton, as an "accused rapist."
Trump noted that the first-place finisher in recent Iowa caucuses had not ultimately won the party's nomination, something he said he wants to change. In 2012 Iowa narrowly picked former Senator Rick Santorum of Pennsylvania, and in 2008, former Arkansas Governor Mike Huckabee won by a wide margin.
"You haven't been good at picking the winners, folks,"Trump said. "If you pick me, you're going to pick a winner."
A Real Clear Politics average of recent state polls shows Trump running second in Iowa behind Cruz, but the New Yorker did nothing to lower expectations for his performance in the state, and said he would be spending "a lot" of time there before Feb. 1.
"We've got to win Iowa," he said. "Otherwise, we're wasting our time, folks."
Asked in an NBC News interview on Saturday about speculation he'd quit the race if he loses in Iowa, Trump said, "There's no 'maybes.' I'm not leaving."
Shawnda Starr, 39, a pre-school teacher from Centerville, said she changed her voter registration from independent to Republican last week so that she can caucus for Trump.
Asked if Trump had ever said anything that concerned her, Starr said no, including his proposed temporary ban on allowing Muslims into the U.S. "I want people coming here for the right reasons, not to cause harm to people," she said.
Some of those turning out to see Trump had to wait outside in line for up to 30 minutes, in frigid temperatures of around 15 degrees Fahrenheit (-9C), to be cleared through a security screening.
Darin Garvett, 45, a construction company owner from Bloomfield, said he waited about 10 minutes, but didn't mind. He plans to go to the caucuses for the first time in his life, to support Trump.
"I get irritated with how career politicians tell people what they want," he said. "Career politicians make a living of spending taxpayer money, instead of earning money."
 
(
Updates with comments about China in fifth paragraph.
)
Before it's here, it's on the Bloomberg Terminal.
LEARN MORE