Yahoo to Reconsider Sale of Web Business Instead of Spinoff
, , and
A decision to sell would contradict Yahoo's intent to spin

Verizon has publicly stated interest in acquiring Yahoo
Yahoo! Inc. is considering an outright sale of its business, marking what could hasten a significant shift in the company's thinking as it faces pressure from activist shareholders.
Just last month, Yahoo executives put forward a plan to spin off its main Internet business, the latest of several strategies they've proposed over the past year to deal with slowing revenue. Now, that idea may be abandoned in favor of a sale, people familiar with the matter said. The company may need a new plan in the face of an expected proxy fight by an activist investor, said the people, who asked not to identified because a final decision hasn't been made.
Yahoo still hasn't concluded that it has to sell and hasn't hired a bank to run an official process or contacted potential buyers, they said. The Dec. 9 announcement was a strategic move by Chief Executive Officer Marissa Mayer to buy time to shape Yahoo into a more sellable asset, including cutting costs, said the people.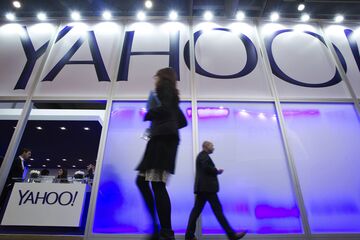 "There is no determination by the Board to sell the Company or any part of it," Yahoo Chairman Maynard Webb said in a conference call when the plan was unveiled in December. "We believe that the business remains very undervalued, and we are focused on realizing and unlocking that value, both with separating our assets the way we are talking about, and also working on transforming our operational businesses."
Yahoo Assets
Sarah Meron, spokeswoman for Santa Clara, California-based Yahoo, declined to comment. Yahoo shares rose 1.6 percent to $30.63 at the close in New York. The stock fell 34 percent in 2015.
By waiting longer, the market may also readjust its view of what Yahoo is worth, two of the people said. After accounting for a $27.7 billion stake in Alibaba Group Holding Ltd., $7.96 billion stake in Yahoo Japan Corp. and $5.88 billion in cash and equivalents, Yahoo's market value of $28.9 billion shows that investors consider the main business to be worth zero or less, according to Bloomberg Intelligence.
Starboard Value LP and other stakeholders have been pushing for Yahoo to separate the Alibaba assets from its main business without incurring a hefty tax charge. Last month's plan to weigh a spinoff of the core business replaced Yahoo's earlier proposal to return Alibaba shares to shareholders and keep its Web operations intact. By selling the Internet portal, Yahoo would effectively become a holding company for its assets and cash.
Under Pressure
Pressure is mounting on Mayer and the board to act sooner. Starboard urged an overhaul of Yahoo's management this week, saying the Internet pioneer's recent decision to spin off its core Web businesses will require shareholders to wait another year "while the existing leadership continues to destroy value."
There are possible buyers. Verizon Communications Inc. Chief Executive Officer Lowell McAdam and Chief Financial Officer Fran Shammo, using similar language, both said last month that Verizon would look at a Yahoo deal "if it made sense." Verizon acquired AOL Inc. for $4.4 billion last year. Yahoo's mail, finance, sports and video sites attract more than 1 billion users, a prized asset that would add to AOL's roughly 170 million Web visitors. That kind of Web traffic, along with exclusive content, is appealing to Verizon, which needs to lure and retain a new smartphone-addicted generation.
There are no current sale talks, although advisers continue to work closely with Yahoo on its strategy, the people said. Even though Yahoo may plan to ultimately sell its business, the strategy of publicly charting a course for a spinoff would also give Mayer more time to juggle a sale a few months after the recent birth of her children, the people said.
Before it's here, it's on the Bloomberg Terminal.
LEARN MORE