U.S. Stocks Sink in Worst Week Since 2011 as China Revives Angst
by and
S&P 500 plunges 6% in worst-ever start; Dow drops 1,079 points

China rekindles slowdown worry, sparks selloff in risk assets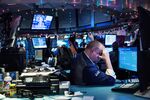 Volatility erupted anew in financial markets as a fresh year brought jarring swings, anxiety about global growth and the worst start on record for equities both in the U.S. and in the world.
The Standard & Poor's 500 Index tumbled 6 percent in the week, the biggest drop since September 2011 and the steepest slide over five days to begin a year on record. Even a blockbuster jobs report that bolstered optimism in the world's largest economy wasn't enough to arrest the freefall, with an end-of-week rally stalling as investors shunned U.S. equities heading into the weekend.

It was the same story everywhere. China's Shanghai Composite Index slid 10 percent for the week, while Europe's Stoxx 600 Index lost 6.7 percent for its biggest drop in four years. A gauge of emerging-market equities compiled by MSCI fell 6.8 percent, while its all-world index dropped 6.2 percent in its worst week since 2011.
While the primary culprit was China, where a surprise weakening of the nation's currency fueled concern that a slowdown there is worse than thought, a host of factors contributed to the rout. Crude prices plunged to a 12-year low, reviving fears that indebted energy producers won't be able to remain solvent. North Korea tested a nuclear weapon, heightening geopolitical worries, and Middle East tensions mounted.
The new year started with a Federal Reserve intent on raising borrowing costs at the same time corporate earnings are forecast to fall through the first quarter. With volatility returning and a measure of share valuations stretched, investors are finding little reason to pile into a bull market that is approaching its seventh anniversary.
"It's going to be a jittery market," Brad McMillan, chief investment officer of Commonwealth Financial Network in Waltham, Massachusetts, which oversees $100 billion, said by phone. "To now see August's problems come back with a vengeance is frightening. The U.S. will come through it just fine. But make no mistake, China is potentially a big problem and people are going to be more responsive going forward."
The S&P 500 endured four slides of more than 1 percent, including a 2.4 percent rout on Thursday, to close at 1,922.03, the lowest level since Sept. 30. The Dow Jones Industrial Average tumbled 1,078.58 points in the week, or 6.2 percent, to 16,346.45. Almost 95 percent of S&P 500 shares retreated, while Wal-Mart Stores Inc. was the only member of the 30-stock Dow to gain.
The tumble in global equities began Monday in China after a weakening yuan sent stocks there down 7 percent to trip new circuit breakers that shut markets midday. A claim by North Korean officials that the country successfully tested its first hydrogen bomb added to investor angst. Crude's plunge below $33 a barrel in New York pushed energy producers in the S&P 500 to the lowest levels in five years.
"It was a hectic week," said Mark Spellman, a fund manager who helps oversee more than $4 billion at Alpine Funds in Purchase, New York. "We're still in a risk-off mentality. Any kind of risk-on trade mentality that comes in is going to be short-lived until global economic growth improves."
U.S. markets shook, with the Chicago Board Options Exchange Volatility Index surging 48 percent to 27.01. The VIX's biggest jump in a month left it 61 percent above the one-year average of 16.7. At the same time, share-price multiples for stocks in the S&P 500, at 23 times reported earnings, are 30 percent above the average since 1936.
"Overall, there's instability the market is trying to get its arms around," said Dan Deming, a Chicago-based manager at KKM Financial LLC. "The psychology in the market was ripe for a selloff, the fundamentals were starting to show some cracks, particularly in China, and the technical aspects looked pretty bearish."
The worst start to a year for global financial markets sparked the biggest weekly outflow of cash from equity mutual funds since September, as investors pulled $8.8 billion from global equity funds, according to data collected by Cambridge, Massachusetts-based EPFR Global Inc. Redemptions at U.S.-based stock funds hit at a 17-week high, with investors favoring funds that target Europe and Japan, where central banks have pledged continued support.

China took steps Friday to stabilize its markets, and a government jobs report in the U.S. that indicated resilience in the labor market provided a burst of optimism that the world's largest economy would be spared from slowing global growth. That faded in afternoon trading, with the selloff intensifying as investors headed for the weekend.
The S&P 500's rout left it almost 10 percent below its record set in May, though the gauge remains 2.9 percent above its August trough. All 10 of the index's major groups retreated. Companies with exposure to China led losses, with resource producers and miners falling at least 6 percent.
The start of earnings on Jan. 11 is expected to bring another decline, with analysts forecasting profits in S&P 500 members fell 6.7 percent in the fourth quarter, according to data compiled by Bloomberg. That would mark the third straight quarter of year-over-year retreats. 
"It has been a rough week. When investors saw there was no traction and the market was unable to hold rallies over several attempts throughout the day it just became fear of going into the weekend," Gene Peroni, a fund manager at Advisors Asset Management Inc. in Conshohocken, Pennsylvania, said by phone. "The market has just been so reactive to news, people will wait on the sidelines and see what the weekend brings."

Before it's here, it's on the Bloomberg Terminal.
LEARN MORE