U.S. Stocks Tumble, Cap Worst Five-Day Start to Year on Record
by , , and
Equity gauges post their worst weekly declines since 2011

Investors find little comfort in December's job surge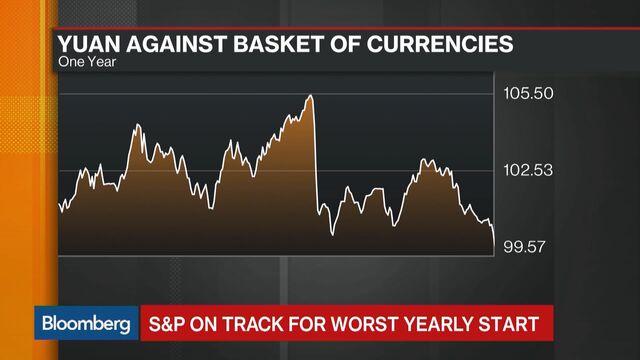 U.S. stocks tumbled in a late-afternoon selloff that sent major equity indexes to their worst weekly declines in more than four years, as investors found little relief in moves by China to restore calm to its sinking markets and data that showed resilience in the U.S labor market.
Bank stocks led the late slide, with JPMorgan Chase & Co. and Citigroup Inc. falling at least 2.2 percent to cap the week with drops of nearly 11 percent. Energy shares in the Standard & Poor's 500 Index lost 1.3 percent to press deeper into five-year lows. Seven of the benchmark's 10 main industries sank more than 5.5 percent this week in the gauge's worst five-day start to a year in data going back to 1928.
The S&P 500 dropped 1.1 percent to 1,922.03 at 4 p.m. in New York, and fell 6 percent for the week. The Dow Jones Industrial Average sank 167.65 points, or 1 percent, to 16,346.45. The index lost more than 1,000 points this week in its worst opening five-days to a year ever. The Nasdaq Composite Index declined 1 percent, stretching its losing streak to seven days, the longest since 2011.
"When investors saw there was no traction and the market was unable to hold rallies over several attempts throughout the day, it just became fear of going into the weekend," said Gene Peroni, a fund manager at Advisors Asset Management Inc. in Conshohocken, Pennsylvania. "The market has just been so reactive to news, people will wait on the sidelines and see what the weekend brings. It has been a rough week."
A report today showed a 292,000 gain in jobs last month, exceeding the highest forecast in a Bloomberg survey, after a 252,000 increase in November that was stronger than previously estimated. The unemployment rate held at 5 percent, a seven-year low.

Worries over contagion from China briefly lessened Friday after officials in the Asian nation set a higher yuan reference rate, suspended a controversial circuit breaker system that had halted stock trading twice since it was implemented at the start of the week and directed state-controlled funds to buy local shares. U.S. equities fluctuated near three-month lows for most of the session before selling accelerated in the final hour.
The S&P 500 has fallen 7.3 percent since the Federal Reserve raised interest rates last month for the first time in nearly a decade. The central bank balked at boosting borrowing costs in September in part due to turbulence sparked by China's August currency devaluation. The poor start to 2016 has left the benchmark index 9.8 percent below its all-time high set in May after coming within 1 percent of the record as recently as November. It's 2.9 percent above the August bottom.
"We're still in a risk-off mentality," said Mark Spellman, a fund manager who helps oversee more than $4 billion at Alpine Funds in Purchase, New York. "I think any kind of risk-on trade mentality that comes in is going to be short-lived until global economic growth improves. It's not a great time to pile in right now."
Wages, Inflation
Fed policy makers have emphasized that progress in economic data will guide their path for future rate increases, which they expect to be gradual. The employment report today showed the jobless rate held at 5 percent, while at the same time worker pay disappointed, rising less than forecast from a year earlier. The Fed is counting on tighter labor conditions to lead to a pickup in wages and inflation.
Today's data "is reflective of an underlying momentum that's in fact accelerating, not decelerating," said Dan Veru, who helps oversee $3.7 billion as chief investment officer at Fort Lee, New Jersey-based Palisade Capital Management. "There is no wage inflation and there is no commodity inflation. When you have both of these factors, the Fed will be more motivated'' to hold off raising rates, he said.
After this week's turbulence triggered by China, investors will begin to contend with another expected decline in corporate earnings as the reporting season begins. Alcoa Inc., JPMorgan Chase and Intel Corp. are scheduled to deliver results next week. Analysts forecast profits for S&P 500 members fell 6.7 percent last quarter.
The Chicago Board Options Exchange Volatility Index rose 8.1 percent Friday to 27.01, after erasing an earlier 10 percent drop. The measure of market turbulence known as the VIX is at a three-month high and up 48 percent this month, which would be the most since August's 135 percent jump. All of the S&P 500's 10 main industries fell, with financial, health-care and energy shares losing more than 1.3 percent.
Health-Care Slump
Merck & Co. paced declines among health-care companies, losing 1.7 percent as the group fell for the sixth time in seven days and to their lowest level since Oct. 22. Mylan NV and Endo International Plc sank the most, down at least 4.2 percent. The Nasdaq Biotechnology Index declined 1.9 percent amid its longest losing streak in three months.
Banks in the benchmark posted their worst week in more than four years, down 9.5 percent, while also in the midst of their longest stretch of declines since 2011. JPMorgan Chase, Citigroup Inc. and Bank of America Corp. all fell at least 9.6 percent this week.
Gap Inc. plunged 14 percent today, its steepest since 2011, after December sales tumbled at its Old Navy chain. The retailer's shares had rallied 5.7 percent yesterday before the report. Kohl's Corp. and Nordstrom Inc. lost more than 4.6 percent.
Teen-apparel seller American Eagle Outfitters Inc. dropped the most in more than five years, down almost 17 percent. Holiday sales missed analysts' estimates, stoking concerns about a company that had been outshining the rest of its industry.
Viacom Inc. jumped 5.4 percent, the most since August 2013, to lead a climb among media companies after the shares plunged 45 percent last year. A report said the company will allow investors in March to vote on whether to expand voting rights to all holders. CBS Corp. added 2.5 percent, its biggest gain in two months.
Before it's here, it's on the Bloomberg Terminal.
LEARN MORE