Toys 'R' Us Posts Its First Holiday Sales Gain in Four Years
By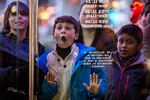 Toys "R" Us Inc. had a merry Christmas for the first time in four years.
The world's largest toy chain increased its same-store sales by 2 percent during the holiday-shopping season, helped by a strong December, the company said on Friday.
The gain came after declines the past three Christmas seasons, which added to doubts about the viability of the retailer in an industry rapidly shifting to online sales. Bain Capital Partners, KKR & Co. and Vornado Realty Trust acquired the chain a decade ago in a $6.6 billion deal and have struggled to take it public again.
The results gave a boost to Toys "R" Us's bonds. The company's $400 million of 7.375 percent notes jumped 7.25 cents to 55.25 cents on the dollar at 1 p.m. in New York, according to Trace, the bond-price reporting system of the Financial Industry Regulatory Authority.
The holiday season was the first under David Brandon, who became chief executive officer in July. Brandon ran Domino's Pizza Inc., another Bain-owned company, for 11 years and guided it through an initial public offering in 2004. Since joining Toys "R" Us, he has been revamping the management ranks, including eliminating the president of U.S. stores.
During the holidays, the company was able to keep the hottest toys in stock while keeping prices competitive, Brandon said in the statement. Star Wars merchandise also have helped give the industry a boost.
The results "demonstrate our ability to execute our holiday plan in a highly competitive marketplace," Brandon said.