Too Much Love for Europe Stocks Proves Costly in Global Drop
by and
Stoxx 600 has trailed U.S., China benchmarks since September

Europe more vulnerable as it's favored trade: BofA, JPMorgan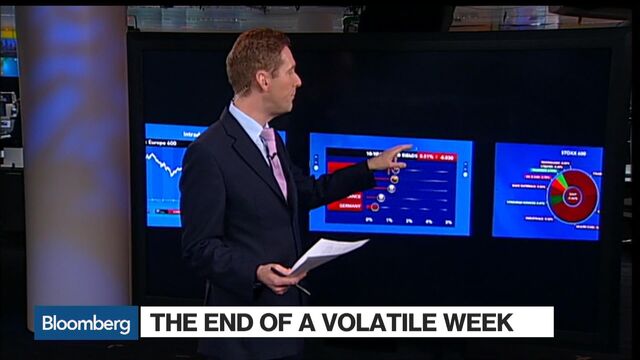 European stocks may be paying a price for being the darling of equity investors.
Heading into 2016, strategists were falling over themselves to outline reasonsstocks in the region would outshine global peers, while traders poured moneyinto funds betting on a rebound. The enthusiasm is haunting people now, says Bank of America Corp.'s James Barty. Europe's equities have trailed counterparts in the U.S., Japan, and China since the world's stocks bottomed in September. This week's rout is making it worse.
"When you have sentiment shocks and people want to cut their equity exposure, Europe will be more vulnerable," said Barty, Bank of America's head of European equity strategy in London. "It's the danger of the consensus trade. A lot of people were looking for a risk-on rally to start the year and suddenly they have to reassess that."

Traders have been down this road before -- China's surprise yuan devaluation in August sparked a selloff in global assets. But the shock has been worse for Europe this time: volatility increased more than anywhere else and intraday stock swings matched those seen in the financial crisis. Investors have paid little heed to improving economic data in Europe or expectations that its central bank will step up support.
The region's stock funds saw record inflows last year and a Bank of America survey last month showed that even after a disappointing European Central Bank meeting, 55 percent of investors owned more of European equities than were represented in global benchmarks, making it the best liked region in the world.
The bullishness was cut short this week amid concern that multiple cuts to the yuan's reference rate signal a deepening slowdown in the world's second-biggest economy. After the worst-ever start to a year, and more losses on Wednesday, Thursday and Friday, the Stoxx Europe 600 Index slumped 6.7 percent this week, the most in more than four years.
"The extent of this selloff is unexpected," said David Stubbs, a London-based global market strategist at JPMorgan Asset Management. "Our internal meeting rooms are full to the brim because everyone wants to know whether we should reassess."
The bad start to 2016 is just a dip after four straight years of gains, according to Quoniam Asset Management's Soeren Steinert.
"It's not a terrible thing," said Steinert, associate director for equities trading at Quoniam in Frankfurt, which manages manage $24 billion. "It's a healthy, strong market because it's not only going up but coming off as well."
With volatility on the rise, stock investors should shift their holdings, said Pierre Mouton, who manages about $9 billion at Notz, Stucki & Cie. The VStoxx Index of volatility expectations for euro-area shares has jumped 34 percent this week, heading for its biggest gain since April.
"The very wide moves we've had on the downside since the beginning of the year are a bad omen for 2016," Mouton said from Geneva. "I would really be extremely cautious with everything that surrounds cyclical industrials, resources, materials, and turn to more defensive sectors."
Before it's here, it's on the Bloomberg Terminal.
LEARN MORE