The College Job That Can Be a Nightmare to Lose
Students who work as resident advisers in college dorms say they should have more job protections.
by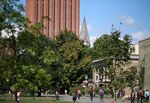 Last month, students at the University of Massachusetts at Amherst paraded through campus holding up signs and beating drums until they reached the administrative office of Chancellor Kumble Subbaswamy. A faction went inside to deliver a petition, bearing nearly 600 signatures, that demanded job protections for resident advisers and peer mentors—students who provide academic and emotional counseling to first-year students. 
Many of the students were members of United Auto Workers Local 2322. Since 2002, UMass-Amherst has been the only school in the country whose resident advisers (RAs) are unionized. The union was negotiating a new contract and wanted language in the agreement that protected RAs from being disciplined or fired without "just cause." 
"UMass Amherst is attempting to portray resident assistants and peer mentors as not real workers," said Jocelyn Silverlight, president of the local union, which represents 27 workplaces in Massachusetts, Vermont, and New Hampshire. "But the work they do is as important and deserves as much protection as any other job." The university declined to comment on the RA union's specific claims because the bargaining process is under way, but in an e-mailed statement, school spokesperson Daniel Fitzgibbons said it was "aware of their concerns," and added, "The university is negotiating in good faith and we hope to reach an agreement that is satisfactory for all parties."
Similar fights have popped up at other U.S. colleges. At New York University, Robert Ascherman, a former RA and student organizer, is campaigning for RAs to be paid $15 an hour. Ascherman is organizing a town hall-style event in February for NYU student workers to air their grievances. "Resident assistants at NYU receive room and board as compensation--a package that amounts to approximately $22,000 each academic year," said James Devitt, a spokesperson for NYU. 
Student advocates at Wellesley College, in Massachusetts, successfully campaigned last October to get the school to begin paying RAs. The same month, Michigan State University students circulated petitions to reinstate 10 RAs who were fired after they held a party. RAs at Ohio University attempted unsuccessfully to unionize last year.
Getting fired as an RA isn't like getting kicked off the baseball team or being put on academic probation, said Laura Shapiro, a junior at UMass-Amherst who works as a peer mentor (peer mentors at the school, who receive a discount on student housing in exchange for their services, joined the RA union last year). Resident advisers (or resident assistants, as they're also called) are usually sophomores, juniors, or seniors who monitor on-campus housing.  In exchange for responding to emergencies, holding meetings, and counseling students, RAs don't pay for housing, and many don't pay for meal plans. For this group, losing your job is likely also to mean losing your home. That, for some, could render college unaffordable: Housing and food made up 54 percent of college student living expenses in the 2015-16 school year, according to the College Board.  
Jason Cody, a spokesperson for Michigan State, the school where students objected to 10 RAs being fired, said that when an RA gets fired, he or she is offered living arrangements elsewhere within the college. "If the students can't afford to make a payment, it's taken into consideration," he said. "Even if they get fired, they're still students." 
The RA union at UMass-Amherst has asked for contract language saying "no employee shall be disciplined or discharged except for just cause," said Silverlight. "It seems like the most basic thing," she said. The contract provision would promise due process and fairness for the jobholder if the university decides to take disciplinary action or terminate a worker, allowing fired RAs to appeal the university's decision and obliging the school to submit to arbitration of the process by a neutral third party.  
RAs at UMass can be fired after a verbal warning, a written warning, and a probation period, after which they have seven days to clear out of their housing. Shapiro, who hopes to become an RA next fall, said it can be easy to rack up warnings. "You hear stories of wrongful or unfair termination all the time," she said.
At Wellesley, where RAs are paid, it took a school newspaper demonstration and a petition by student advocates to get the college administration to offer stipends to RAs and HPs (hall presidents) starting in the fall of this year.
"The school has their heart in the right place, but sometimes it needs a push from students," said Savannah Hauge, a student organizer who campaigned for the changes. "There is always enough money for the things they want to prioritize." 
Before it's here, it's on the Bloomberg Terminal.
LEARN MORE