benchmark
Here's How Much Slack Is Left in the U.S. Labor Market
There's enough to keep wages from rising significantly
By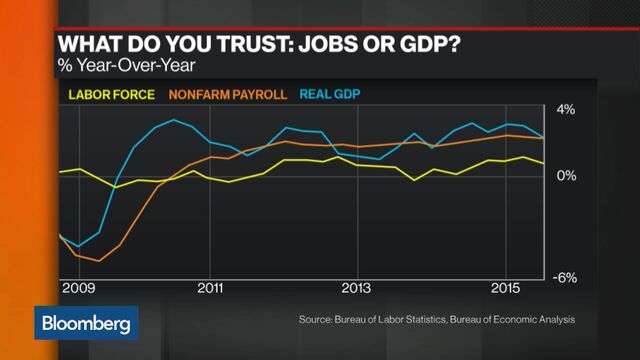 The mystery that's plagued the last few years of the U.S. economic expansion wasn't solved last month. December marked another strong showing for job creation, and yet another disappointing month for wages.
Average hourly earnings fell a penny from the month before to $25.24. They were up 2.5 percent from a year ago, but that's still less than economists forecast. 
Given that the job market has just posted its best two years since 1998-99, the lack of earnings growth continues to stump economists. The most ready explanation? There are still plenty of workers — both in the labor force and out —  for employers to choose from, leaving them in no big hurry to raise wages.
"We dug ourselves into an enormous hole during the recession — the unemployment rate rose substantially, and the recovery took time to find any rhythm," said Ryan Sweet, a senior economist at Moody's Analytics Inc. in West Chester, Pennsylvania. "Over the last couple of years slack has diminished significantly, it just hasn't vanished."
Here's what indicators will help gauge just how much room for improvement remains in the labor market:
The Marginally Attached
This series from the Labor Department tracks people who want a job, are available to take one and have searched for employment in the past year, but haven't looked for work in the past four weeks. There were 1.8 million people who met that description last month, and while that number has come down over the years, it remains elevated compared to the pre-crisis average.
For example, a stay-at-home mom is thinking about returning to the workforce. However, she's calculated that between the paycheck she'd receive and the amount she'd have to shell out for daycare, taking a job isn't worth it.
"Wage growth just hasn't been strong enough" to make it attractive enough for some people who want to return to work, Sweet said.

Involuntary Part-Timers
Federal Reserve Chair Janet Yellen herself has pointed to this metric as a good gauge of labor-market slack. The number of people who work part-time hours but would prefer to be full time has fallen about 22 percent over the last two years, though it remains just above 6 million, compared with 4.6 million when the recession began at the end of 2007.

U-6 Unemployment Rate
This measure includes the previous two series and adds in the traditional unemployed to create the broadest picture of underemployment. It was unchanged at 9.9 percent in December.
"That needs to come down to about 9 percent to be consistent with an economy at full employment," Sweet said.

The Long-Term Unemployed
The median number of weeks that workers sat unemployed fell to 10.5 in December, a seven-year low. While that's good news, there's still a significant number of long-term jobless — those who have been out of work for 27 weeks or longer.
They comprised 26.3 percent of all unemployed last month, compared to an average 16.1 percent in the 20 years before the 2007-09 recession. And the longer these folks are out of work, the rustier their skills get, making it even harder for them to re-enter the labor force.

Before it's here, it's on the Bloomberg Terminal.
LEARN MORE