GM Icon Bob Lutz, Henrik Fisker Announce New Company, VFL Automotive
Meet the new boss, same as the old boss (the Destino lives again).
By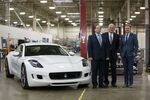 Bob Lutz and Henrik Fisker have announced a new American car company called VLF Automotive. And so far at least, it has nothing to do with beating Fisker's old rival Tesla. 
Instead, the development comes as an update to an old company Lutz started in 2012 with entrepreneur and former Boeing executive Gilbert Villarreal. VL Automotive, as it was known, created some small buzz in 2013 when it developed the Destino at the Detroit Auto Show but has since displayed little life. (It merged with a company called GreenTech Automotive in 2014 on since-fizzled promises to deliver electric city cars, plug-in muscle machines, and performance cars, including those from the obscure brand Saleen for the Chinese market.)
In a statement released just days before the 2016 North American International Auto Show, the former GM vice chairman and Fisker, the designer responsible for the BMW Z8 and Aston Martin DB9, said VLF Automotive will create a new version of the Destino. The car will use a drivetrain from the Chevrolet Corvette ZR1, a Corvette V8 engine, and a bespoke four-door design. Lutz said the Destino, along with Fisker's new Force 1, will make its debut in Detroit next week.
And it's all without an electric or hybrid drivetrain in sight.
Instead, the three are positioning the company as the perfect trifecta of management and financial skills (Lutz), manufacturing expertise (Villarreal), and design innovation (Fisker) to develop a bona fide American supercar. Fisker, now a VLF shareholder and the third member of the executive management team, alongside Lutz and Villarreal, said in the statement that they "seek to change the future of the American auto industry." The company says it has a manufacturing facility in Auburn Hills, Mich., and a design center in Los Angeles. Seven dedicated dealerships are planned to open in North America starting later this year. 
Specifications released with the announcement said the 638-horsepower Destino will reach 60 mph in 3.9 seconds and have a top speed of 200 mph. Initial pricing will start at $229,000. A representative for the company said it plans to sell 100 Destinos "in the next year." 
It certainly sounds nice. But Lutz has long has his hand in fantastical automotive endeavors that lean too heavily on his star power and too lightly on creating actual product. And Fisker will have a tough battle flogging a model that shared a body with his failed Karma, a car whose early hype died quickly after it proved unreliable and poorly engineered. That new red-blooded American engine and a little jolt of design testosterone likely aren't enough for a viable revitalization.
Before it's here, it's on the Bloomberg Terminal.
LEARN MORE