Donald Ross, Ex-NY Life CEO Who Shunned Junk Bonds, Dies at 90
Nancy Moran and Katherine Chiglinsky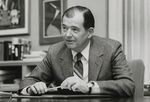 Donald Ross Sr., a former chief executive officer at New York Life Insurance Co. who doubled the company's total assets by adding mutual funds in the 1980s while shunning junk bonds, has died. He was 90.
He died Jan. 5 at his home in Franklin Lakes, New Jersey, following a long illness, his daughter, Deborah Cipriano, said today in a telephone interview.
During his tenure at the helm of the Manhattan-based insurer, from 1981 to 1990, Ross oversaw total asset growth of more than 100 percent, topping $50 billion. Aware that baby boomers were entering their prime buying and investing years, he introduced New York Life's own line of mutual funds, the MainStay fund family, in 1986.
Those gains came without following the herd on Wall Street.
"Don Ross was a contrarian in the best tradition of New York Life," current Chairman and CEO Ted Mathas said today in an e-mailed statement. "When junk bonds were coming into fashion, some of our competitors were seduced by the fat returns promised by the promoters. Don saw the folly of that."
New York Life is now the largest policyholder-owned life insurer in the U.S., with $541 billion in assets under management, according to its 2014 annual report. MainStay Investments, which includes mutual funds and exchange-traded funds, managed about $88 billion as of Nov. 30.
Moody's Investors Service began covering the company in 1988 with its highest rating, according to spokeswoman Terri Wolcott. The insurer had the second-highest rating from 1997 until 2005, when it returned to the top grade.
'True Gentleman'
Ross spent his entire professional career at the insurer, a Fortune 100 company, joining after he graduated from Harvard Business School in Boston, Massachusetts, in 1948.
He was "a true gentleman of the old school with a calm demeanor, impeccable judgment and an illuminating smile," according to an online death notice placed by his family.
In 1981, when he was appointed chairman and CEO, he told the New York Times: "I enjoy getting out and meeting our people in the field. There's no substitute for talking with your folks on the firing line where the rubber meets the road."
Donald Keith Ross Sr. was born July 1, 1925, in Rochester, New York, the son of Alexander Ross and the former Althea Grainger. He was valedictorian of the Ridgewood High School class of 1942 in Ridgewood, New Jersey.
Admitted to Princeton University in New Jersey, Ross was granted leave in October 1943 to enter the U.S. Armed Forces. Under the V-12 Navy College Training Program, he enrolled at Yale University in New Haven, Connecticut, where he majored in electrical engineering and was a member of the varsity swim team.
Professional Ascent
He received a bachelor's degree in 1946 under the accelerated wartime study program. Two years later, he earned his MBA from Harvard Business School in Boston, Massachusetts.
During more than four decades at New York Life, Ross ascended the organizational ranks. He started as a trainee and became a securities analyst. In 1974, he was made an executive vice president, and, in 1979, vice chairman.
In January 1981, Ross was named chairman and chief executive, succeeding R. Manning Brown, who retired at 65.
A lifelong golfer, Ross played competitive platform tennis at the Indian Trail Club in his hometown of Franklin Lakes. However, his passion above all else was his family, his daughter said. She and her brother, Donald Ross Jr., graduated from Princeton and teased their father about being a "Yalie."
Donald Ross Jr. followed his father into finance. He is CEO at PDQ Enterprises LLC, a self-funded dark pool, based in Glenview, Illinois.
AIDS Education
Under Ross's leadership, New York Life was one of the largest and earliest corporate supporters of AIDS education and research. He served as co-chairman, with actress Elizabeth Taylor, of the 1987 American Foundation for AIDS Research awards dinner, underwritten by the company.
His civic activities also included serving as chairman of the board of trustees of the YMCA of Greater New York and as a trustee of the Consolidated Edison Co. of New York Inc. and the Colonial Williamsburg Foundation. He also served on the board of the New York Chamber of Commerce.
Survivors include his wife, the former Mary Fyffe, whom he married in 1949, and children Catherine Lesher, Susan Morris, Deborah Cipriano and Donald Ross Jr.; a brother, Alexander; nine grandchildren; three step-grandchildren; and eight great-children.
Before it's here, it's on the Bloomberg Terminal.
LEARN MORE