China Stocks Gain as State Funds Buy, Circuit Breaker Scrapped
Bloomberg News
Shares pare weekly loss as central bank stabilizes yuan

Regulators halted circuit breakers after just four days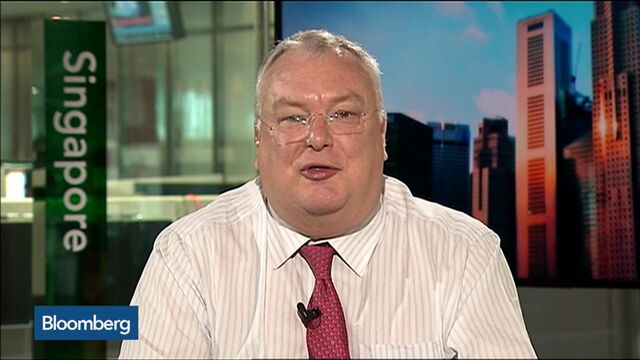 Chinese stocks gained in volatile trading after the government suspended a controversial circuit breaker system, the central bank set a higher yuan fix and state-controlled funds were said to buy equities.
The Shanghai Composite Index closed 2 percent higher, after falling as much as 2.2 percent earlier. Regulators removed the circuit breakers after plunges this week closed trading early on Monday and Thursday. The central bank set the currency's reference rate little changed Friday after an eight-day stretch of weaker fixings that roiled global markets. State-controlled funds purchased Chinese stocks on Friday, focusing on financial shares and others with large weightings in benchmark indexes, according to people familiar with the matter.
"The scrapping of the circuit breaker system will help to stabilize the market, but a sense of panic will remain, particularly among retail investors," said Li Jingyuan, general manager at Shanghai Bingsheng Asset Management. "The 'national team' will probably continue to buy stocks significantly to stabilize the market."
While China's high concentration of individual investors makes its stock-market notoriously volatile, the extreme swings this year have revived concern over the Communist Party's ability to manage an economy set to grow at the weakest pace since 1990. The selloff has spread around the world this week, sending U.S. equities to their worst-ever start to a year and pushing copper to the lowest levels since 2009.

The CSI 300 Index of large-cap companies in Shanghai and Shenzhen advanced 2 percent. The Hang Seng China Enterprises Index climbed 1.1 percent from a four-year low as China Petroleum & Chemical Corp. led gains by energy companies, while the Hang Seng Index added 0.6 percent. The Shanghai Composite pared its weekly decline to 10 percent, its biggest loss since August.
China's decision to suspend a stock circuit breaker makes sense, but the implementation and timing don't, said Mohamed El-Erian, the chief economic adviser at Allianz SE. China realized that it had very tight limits, which did more harm than good, El-Erian said Thursday in an interview with Scarlet Fu on Bloomberg Television.
"They realized this, which is good news. The bad news is they took it off at a very peculiar time and did so without a whole set of compensating measures," said El-Erian, who is also a columnist for Bloomberg View.
Investors still face plenty of restrictions in how they trade. Rules limit daily moves by individual stocks to 10 percent, while investors aren't allowed to buy and sell the same shares in a day. Curbs on trading in what was the world's most active index futures market have cut volumes by 99 percent from the peak, making it harder to implement hedging strategies. Daily and aggregate quotas limit trading by foreign investors.
Increasing Risks
The flip-flop in the circuit breaker rule adds to the sentiment among global investors that authorities are improvising -- and improvising poorly -- as they try to stabilize markets and shore up the economy.
"They are changing the rules all the time now," said Maarten-Jan Bakkum, a senior emerging-markets strategist at NN Investment Partners in The Hague with about $206 billion under management. "The risks seem to have increased."
Investors should expect more volatility in Chinese markets as the government attempts to shift away from a planned economy to one driven by market forces, Mark Mobius, chairman of the emerging markets group at Franklin Templeton Investments, wrote in a blog post on Thursday. Policy makers face a "conundrum" as they seek to maintain financial stability while at the same time loosening their grip on markets, he said.

As well as the gyrations in the stock market, China's management of the yuan this week has been fueling anxiety. The central bank cut the reference rate it uses to benchmark the currency to the weakest since March 2011 last session, a move that caused the yuan to spiral before it arrested declines amid speculation policy makers were intervening.
Yuan Fixing
The offshore yuan extended gains Friday after the People's Bank of China set the daily fixing, which restricts onshore moves to a maximum 2 percent on either side, at 6.5636 a dollar, 0.02 percent stronger than the previous day. That's 0.5 percent higher than Thursday's onshore effective closing price in the spot market and ends an eight-day reduction of 1.42 percent.
While a weaker yuan would support China's flagging export sector, it also boosts risks for the nation's foreign-currency borrowers and heightens speculation that the slowdown in Asia's biggest economy is deeper than official data suggest. A surprise devaluation in August roiled global markets on concern the move would trigger a currency war and exacerbate deflationary pressures in developed nations.
U.S. Slide
The Standard & Poor's 500 Index has fallen 4.9 percent this year, its worst start in data going back to 1928. The MSCI All-Country World Index has tumbled 5.3 percent.
Trading in S&P 500 e-mini futures soared during Asia hours on Thursday, with volumes in the hour after 9 a.m. in Hong Kong more than six times their level during the same period on Monday, according to data compiled by Bloomberg. China releases the daily yuan reference rate around 9:15 a.m. Hong Kong time, and markets in that city and on the mainland start at 9:30 a.m.
---
Full Coverage of the Global Market Turmoil

— With assistance by Shidong Zhang
Before it's here, it's on the Bloomberg Terminal.
LEARN MORE