Business
Beijing Said to Expand Restrictions on Vehicle Use to Fight Smog
Bloomberg News
Beijing Said to Expand Restrictions on Vehicle Use to Fight Smog
Bloomberg News
Chinese capital plans to restrict car use by license plates

Measure is used for special one-off events like APEC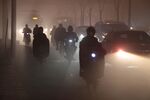 Beijing's municipal government is planning to impose a set of vehicle restrictions commonly used for special events for the rest of the winter period to fight air pollution, according to people familiar with the matter.
Vehicles will be barred on alternate days from Beijing's roads depending on the last digit of their license plates, excluding public holidays, the people said, asking not to be named because the information isn't yet made public. The restrictions will be imposed for the rest of winter as air pollution is typically worse during this period due to the extra demands on power plants to provide electricity for seasonal heating, the people said.
The "odd-even" rule, as the restriction has come to be known, is routinely used before and during important events such as the Beijing Olympics, an APEC meeting and military parades. China's capital has been struggling with hazardous smog this winter, issuing "red alert" warnings to residents to avoid outdoors activity, and vehicular exhaust has been blamed as a major contributor to the pollution along with industrial emissions.
The municipal government is also studying the option of distributing license plates by auction, one of the people said. Beijing currently sets an annual quota of vehicle registrations and distributes the rights through a lottery, which has sparked unhappiness among the city's residents because the odds of winning a plate through the ballot are low.
Electric cars are given a special quota of license plates in the current lottery system and are exempt from driving restrictions to encourage their use.
Two calls placed to the media department of the Beijing Municipal Commission of Transport went unanswered. 
— With assistance by Keith Zhai, and Ying Tian