At Detroit Auto Show 2016, Muscle Will Elbow Out Luxury
The first auto show of the year offers America a chance to show how it might top a banner 2015 sales year.
by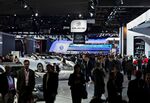 Last year was the U.S. auto industry's best year ever, breaking a record that stood for a decade and a half. 
Which is why the Detroit Auto Show, which opens next week, is crucial. When it opens to the press on Monday, automakers must demonstrate how they plan to protect their ample momentum from 2015. It's first chance they'll have to show their latest wares stateside before they continue the auto show season in Geneva, Beijing, Paris, New York and Los Angeles. 
It's also, as the White House has announced, the first time Barack Obama will visit the show as President of the United States. In a statement Friday to the Detroit Free Press, White House spokesman Keith Maley said Obama will visit Detroit on Jan. 20, which falls in the middle of the days the show is open to the public. The visit is timed to nicely coincide with the strong  year car companies enjoyed in 2015 (a result that, for GM and Chrysler at least, owes credit to Obama's $80 billion in financing help and structured bankruptcies in 2009) and to get a feel first-hand for how they plan to capitalize on it for 2016.
First impressions are crucial. The automakers have got their work cut out for them.

Sales last year rose nearly 6 percent over 2014 and surpassed the previous annual record of 17.35 million units the U.S. auto industry set in 2000. Perfect market conditions set up record profits at virtually all automakers, most of which enjoy far healthier financial status than they did in 2000.
Luxury automakers did just as well. Jaguar Land Rover and Tesla led the pack, with each brand's sales up more than 26 percent over last year. Audi, Bentley, Lexus, and Porsche each turned in double-digit percentage gains, too.
Credit the success, especially in premium brands, to low gas prices and interest rates, low unemployment, and the relatively old age of the current fleet of cars on U.S. roads.
"Luxury has benefited tremendously from the current environment," said Akshay Anand, an analyst for Kelley Blue Book.

The challenge? Possibly, none of those conditions will apply in 2016.
"We might well find that it will be impossible for automakers to top their 2015 US sales," said Jack Nerad, executive editorial director and market analyst for Kelley Blue Book. "Manufacturers and dealers worked harder and harder—and spent more and more—through the year to achieve the sales record in 2015. The likelihood of them continuing to ramp up incentives and discounts as 2016 rolls on is not strong."
And while the economy seems to be slowing just as fear emanates from China, interest rates are expected to continue to rise through 2016.
"None of the current news is good for overall auto sales," Nerad said.

Luxury Turns Up Its Nose At Detroit
In fact, what we can expect from the luxury cadre next week in Detroit is a lot of silence. Bentley, Jaguar, Land Rover, Maserati, and Rolls-Royce have all said they will not show officially during the event, which opens to the public on Jan. 16. (All those brands did show in 2015.) MINI, Maserati, McLaren, and Ferrari will also skip this year's doings. Lamborghini is sending some executives, but it won't show anything new.
"The Detroit show doesn't align with our brand strategy this year," a rep from Bentley told me.
Indeed, when it costs more than $5 million to fund the space, materials, travel, and resources needed to maintain a stand in Detroit, no wonder the smaller-volume makers are taking a pass. Their buyers make purchase decisions at garden parties, cocktail hours, and business meetings, not at convention centers.

Muscle Stars Will Be There 
Of those brands that will show, most are emphasizing muscle. Last year's low gas prices and decreased average fuel efficiencies didn't do much to help popularize electric and hybrid vehicles. The Germans, in particular, are putting forth a strong front.
BMW's 365-horsepower M2 Coupe is a mean rear-wheel-drive powered by a twin-turbocharged, inline-six-cylinder engine. (It will come with a manual option, thank goodness.) Mercedes will show an SLC Roadster that has a 241-horsepower four-cylinder engine in the base model or a twin-turbo V6 engine in the AMG SLC43 version. That one gets 362hp and hits 60 miles per hour in 4.6 seconds. Merc's new E-Class sedan, a twin-turbo V8 monster, will probably be just as fast.
Porsche will show an all-wheel-drive 911 Turbo and Turbo S, with a top speed of 200 mph off a twin-turbo, flat-six-cylinder engine mounted at the rear of the car. It will go from 0 to 60mph in 2.8 seconds.

Americans in the Mix, a Little
In the U.S., Ford has the most-anticipated sports car of the bunch with the long-awaited 2017 Ford GT. The $400,000 supercar has a mid-engine, twin-turbo V6 that exceeds 600hp, a carbon-fiber body, and a rear-wheel-drive, seven-speed, dual-clutch automatic. Production will be less than 1,000 cars.
Along with the GT, Lincoln's V8 Continental will be highly important as the marque attempts to regain its relevance in the luxury market.
"The challenge for Ford in 2016 will be getting their sedans up to speed," Anand said. 
Similarly Cadillac, whose CT6 flagship sedan has been delayed until March, will continue to attempt to recapture its charisma with younger buyers. It must also work on bigger vehicles in general because last year's low gas prices won SUVs and trucks record yearly sales. Along with the CT6, Caddy will show the XT5 crossover that made its debut in Dubai and will replace the SRX. This is an essential move for a brand on the upswing.
"Cadillac has been working hard to increase brand sales and brand image," Anand said. "The upcoming XT5 should ensure they stay relevant."

The Rest of the Pack, and the Big Rigs 
Lexus did not respond to requests for comment on this story. Rumor has it that Lexus will show a LC 500 coupe in Detroit. (This is the one approved for production in 2013 but held for years.) Time will tell: The automaker has filed copyright applications for both "LC 500" and "LC 500h." 
Infiniti is revamping its bestselling SUV for Detroit, with the QX60 getting new styling and an upgraded cabin. (Its new Q50 sedan will maintain the brand's twin-turbo V6 and go up against Hyundai's new Genesis G90 sedan.) And Buick's Envision crossover is notable because it's the first vehicle made in China that GM will import and sell in the U.S.
German brawn, on the other hand, will include BMW staging the world debut of the 355hp X4M, a turbocharged inline-six-cylinder SUV that goes 150mph and hits 60mph in 4.7 seconds, excellent for a vehicle of that size.   

If you must see green-power cars in Detroit, look for Audi's e-Tron Quattro concepts and maybe Porsche's electric Mission E concept on the stand. But electric superstar Tesla won't even attend, and while Fisker used to make electric cars, its $300,000 Force 1 is not one. (Do view that Force 1, though: It has a Henrik Fisker-designed carbon-fiber body on what he says will be a front-engine American production car that will be come out in an initial run of fewer than 50 cars.)
Too Much Tech?
Here's what not to look for: autonomous driving capabilities. Even though Ford and GM have both hyped self-driving machines, and the recent CES show was chock-full of prototypes, liability concerns will prevent them from becoming a realized dream anytime soon. Rather, look for sound and safety technology that's tied in with your cell phone and applicable to your daily life.
"When [modern consumers] get into their cars, they expect to stay connected with simple and easy smartphone integration," said Rachelle Petusky, an Autotrader research analyst. "The manufacturers who blend that with autonomous features are the ones who will win."

Other, more advanced, technologies—progressive autonomous parking, motion-activated dashboards, smart mapping, and car-to-car connectedness—will pop up in offerings from Mercedes, Infiniti, BMW, and hopefully, in Acura's new NSX, which has indeed come to production after undergoing years of prototypes. Acura's Vision Concept will be there, too, but it is still in design stages.
The key thing to remember when it comes to tech in Detroit: Simplicity is key.
"The feature sets have become so expanded that I expect that many who buy new luxury cars these days will never use or even be aware of a percentage of their cars' technological capabilities," Nerad said.
Volvo may be the best one to do it right: The Swedish automaker won the Kelly Blue Book's 2016 Best Auto Tech Award for its "Sensus System" in the 2016 XC90 and will show the new Volvo S90 sedan as a follow-up to that winner. The car has an optional 316-hp, four-cylinder engine that's both turbo- and super-charged, along with the excellent technology that won high marks for voice recognition quality, connectivity and performance, navigation accuracy, response times, menu clarity, and most of all, intuitive operation.
They say it's so good, you might even find yourself using most of them. Here's hoping. 
Before it's here, it's on the Bloomberg Terminal.
LEARN MORE