Autos
Arcimoto Wants You to Forget About Cars
Cruising around Vegas (and the future?) in a new three-wheeled electric vehicle.
By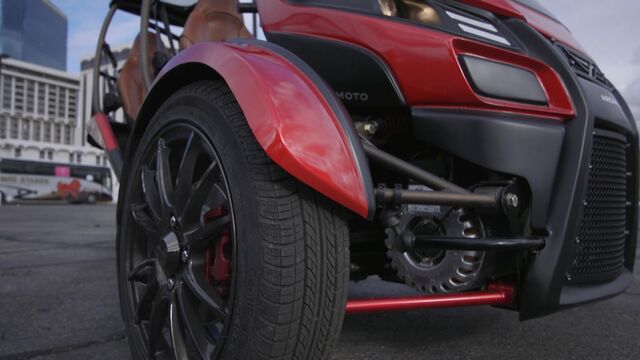 The future of electric vehicles doesn't have to look like Tesla sedans and Faraday Future race cars; it can be something much simpler and city-friendly. At least that's what the people behind Arcimoto are betting on, an electric love child of a commuter's bicycle and a multi-ton car—just don't call it a golf cart. 
"I was looking for something that could get me to work without getting wet or that I could take out for a night on the town but that wasn't a full-size car," says the company's president, Mark Frohnmayer. "If you look at how people drive today, it's one person sitting in 4,000 pounds of steel to pick up a bag of groceries. It's totally insane." 

The Arcimoto team first started molding metal and plastic in Eugene, Ore., in 2007, after Frohnmayer sold his software company and decided to pursue the goal of a more sustainable method of motorized transport. Since then, they've created a number of prototypes and concept vehicles, starting in the middle of 2008. The model we saw is prototype generation eight, and it's what the final production model will be based on. At first glance, the tube-and-panel construction makes it look a little like a three-wheeled golf cart or ATV. But don't call it that, unless you want to see Frohnmayer try to remain polite while grimacing a bit.
This isn't a vehicle meant to be taken out just on weekend joy rides. The two-seater is completely electric and can travel up to 80 miles per hour, going from zero to 60 in 7.5 seconds. It takes a few hours to juice up, and you can get up to 70 miles on a single charge, with an upgrade in the works that will nearly double it to 130 miles. It's already fully street legal across the U.S. and is considered a motorcycle, so it may require a separate certification in some states.  

With prices starting around $12,000 (going up to a little more than $20,000 if you pack on all the upgrades at once), the Arcimoto's a total bargain next to a Tesla Model S, but that's not far from the starting price of a Toyota Prius. What Arcimoto's betting on is that you either already have a standard car and are looking for something different or that you don't want to bother with a traditional car at all. 
After nearly a decade of development, a few hand-built beta vehicles will be shipping to customers the first part of 2016, and by the end of the year the 350-plus customers who have preordered the Arcimoto will start receiving full production versions of their vehicles.

Frohnmayer is very clear that the Arcimoto is meant to be much more than a novelty device and that eventually he thinks people will come around. "You might think of this as your second vehicle and that your primary car is a seven-seater that goes 300 miles or whatever, but that's the one that's just going to sit unused in your driveway three or four weeks every month," he says. "But this is going to be the one you actually use for all your daily needs."
Before it's here, it's on the Bloomberg Terminal.
LEARN MORE