Photographer: Scott Eells/Bloomberg
America, Your Credit Rating Stinks
Unless you live in Silicon Valley or parts of New York and Chicago, in which case congratulations are in order.
by
They are home to the nation's credit elite, and they have another thing in common: the tech industry. Certain neighborhoods on the West Coast boast residents with some of the best credit, according to a new report by free credit score site Credit Sesame. Those zip codes 1 The zip code part of the study used only areas with at least 400 Credit Sesame users. Also, those who use Credit Sesame to get free credit scores or additional services are interested in improving their credit scores, which could eliminate some very wealthy zip codes. include the main stomping grounds of Microsoft, Yahoo!, and Google.

Between the coasts, and certainly away from the tech plutocracy, the story is different. The average score for all U.S. states combined is a lowly 604, considered subprime by many lenders, said Stew Langille, Credit Sesame's chief strategy officer.

The highest credit score possible is 850, although only a rare few have reached it. Those close to it reside in zip codes of Seattle (Redmond, Wash., to be precise), with an average score of 719 under TransUnion's FICO rival, VantageScore. They also populate parts of Mountain View, Calif., (748) Sunnyvale, Calif., (730) and San Francisco (707).
Other highlights from Credit Sesame's report, gleaned from more than 2.5 million of its 7 million users: 
New York, Chicago are Credit Champions
The most creditworthy neighborhood in New York isn't quite Mountain View material, but it's close. It's Manhattan's Gramercy Park, not far from Union Square, home to one of only two private parks in the Big Apple and filled with residents boasting an average credit score of 720. Next is Brooklyn Heights, America's so-called first suburb, coming in at 716 just across the East River. 2 You might expect Greenwich, Conn., with so many hedge fund residents, to weigh in with a high credit score. As you might also expect, few Credit Sesame users reside in that zip code.
By the Midwest's Lake Michigan, credit score kudos go to Chicago's Lake View (707) and Lincoln Park (705) enclaves. Chicago has the distinction of being the poster child for credit inequality, too: Two Southside neighborhoods, Englewood and West Englewood, share an average score of 534.
Massachusetts is Most Creditworthy  
On the state level, the study found the highest average credit scores were in Massachusetts (636), Hawaii (632), Washington State (628) and New York State (628). The nation's capital came in at 627. 
At the bottom of the heap are a collection of Southern states, including Mississippi (572), Arkansas (577), West Virginia (580), and Alabama and Kentucky (582). 

California is home to the top five credit scores by city, with Apple's home base of Cupertino leading at 742. Are we seeing a pattern here?
Income = Credit Score?
While credit scores are supposed to be based on how you manage your credit, Credit Sesame stats show a strong correlation with income.
In Mountain View, Calif., median household income is $92,125, the Census Bureau says, and the percentage of people living below the poverty line is just below 11 percent. Among the lowest-scoring zip codes in Chicago and Detroit, median income is $19,548 3 That is income for area code 60621; a second Southside area code, 60636, has a median household income of $26,352, and 39.4 percent of its population lives below the poverty line. and $26,648, respectively. The percentage of people living in poverty in Chicago's Southside is 47.4 percent; it's 42.8 percent for Detroit. 
Those with the top credit scores in the study benefit from a virtuous cycle. They have high incomes and work in growing industries. More money means you can enter more transactions, such as taking out and repaying loans, which strengthen your credit score. Homeowners showed higher overall credit scores than renters, for example.

The highly educated citizens of Silicon Valley are probably more credit savvy, too. "Potentially part of the problem is that if you don't have a high level of education, and you're busy working and managing your life, it's hard to know what to do to get the optimal credit score," said Langille. You won't know, for example, that how much of your credit line you use makes up about 30 percent of your credit score. 
Credit Limit Use
And speaking of credit usage, whether on a credit card or home equity line of credit, Credit Sesame looked at that too. It graded the pool of 2.5 million users on a scale of A to F, with those using the smallest percentage of available credit getting the best scores. That leaves less than 19 percent of Americans with an A, using zero to 10 percent of available credit. And it leaves 57 percent of Americans with an F, meaning that they use 70 percent or more of available credit. 

Opinion is mixed as to the magic level of credit usage. Many credit experts recommend that people use less than 30 percent of the credit available to them to avoid having their credit score dinged.
Watch Next: The Three Best Ways to Pay Down Your Credit Card Debt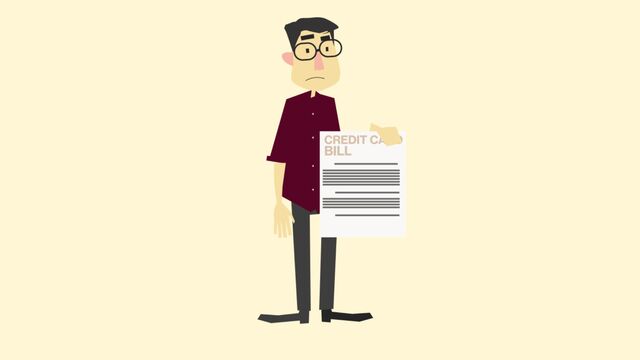 Before it's here, it's on the Bloomberg Terminal.
LEARN MORE