Who Minds North Korea's Nuclear Bombs? Not Asian Bond Investors
by and
Korea Development Bank sells $1.5 billion of global bonds

`It's like the boy who cried wolf,' One Asia Investment says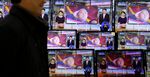 The world had another glimpse of the nuclear ambitions of North Korean ruler Kim Jong Un on Wednesday as he detonated a bomb that caused a tremor equivalent to a 5.1 magnitude earthquake. Asian bond investors barely blinked.
While the world was fretting over claims that the reclusive regime in Pyongyang had successfully tested its first hydrogen bomb, Korea Development Bank had no problem selling $500 million of five-year notes at 82.5 basis points over Treasuries. It also issued $1 billion of bonds due in 10 years at a 87.5 basis point premium, which compares with a 115 basis point spread for similar notes sold in September.
The second nuclear test in the four years since Kim Jong Un rose to power in the wake of his father Kim Jong Il's death had less impact than news that China's manufacturing index was still contracting. The Korean won declined 0.8 percent to 1,197.20 per dollar on Wednesday, compared with a more than 1 percent drop on Monday, when the Caixin PMI came in lower than expected. North's nuclear test has limited impact on South Korea sovereign ratings, Standard & Poor's said on Wednesday.
Repeated Threats
"It's like the boy who cried wolf," said Singapore-based Brayan Lai, a portfolio manager at One Asia Investment Partners Pte. "People keep hearing about North Korean threats so much to the point the effects are dampened."
Moody's Investors Service raised KDB's rating to Aa2 from Aa3 last month, following its upgrade of Asia's fourth-largest economy to Aa2, one step above China and two above Japan.
Investors across the globe submitted orders for $4.7 billion of KDB's bonds, more than three times the amount on offer, the state-owned bank said in an e-mailed statement.
"Despite North Korea's nuclear threats, we were able to reaffirm solid confidence in the Korean economy in the financial markets," KDB said. "With Moody's upgrade of Korea, the sale has shown that Korea is considered a safe haven among global investors."
Before it's here, it's on the Bloomberg Terminal.
LEARN MORE