Wall Street Traders Can't Afford to Sleep During Global Turmoil
by and
`I'm getting too old for this,' says Gamco's Howard Ward

S&P 500 rallies after Shanghai circuit breaker is suspended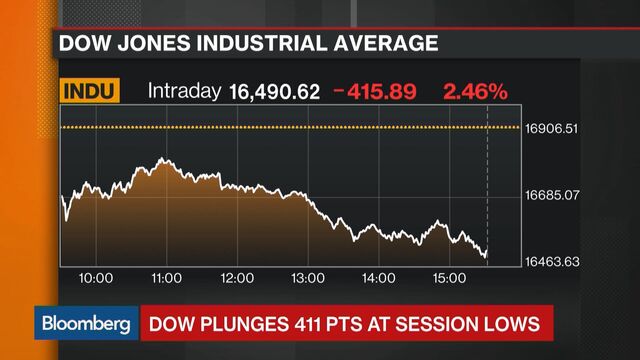 With China's stock market in disarray, American investors are finding out just how long their day can last -- before they even get to work.
"This morning when I rolled over in my bed at 4 a.m. to check the markets and saw what happened in China and in U.S. futures I thought, 'Oh, here we go,'" said Howard Ward, a Wall Street veteran of four decades who oversees $42.7 billion as the chief investment officer of growth equities at Gamco Investors Inc. "I'm getting too old for this."

As the stunning selloff in China caused two shutdowns and convulsed financial markets around the world this week, Wall Street traders have been left to look for whatever clues they can to make sense of it all. Once-obscure events like the yuan currency fixing, which comes four hours after the New York Stock Exchange closes, are now being obsessed over by traders everywhere with a mix of anticipation and dread.
To appreciate just how focused investors are on Shanghai, look at Thursday's reaction to news that China would suspend the week-old circuit-breaker system that the night before halted trading after 29 minutes. Down 1.8 percent before the news, the S&P 500 went straight up for 90 minutes as investors realized they'd be spared the sight of the Chinese stock market opening, plunging and then slamming shut. The boost was temporary, as anxiety grew that regulators are improvising as they try to stabilize markets.
"Regulators there have bad ideas," Ward said. "The circuit breakers were poorly designed and were designed almost to instill panic, which is exactly what happened. There was no question that as soon as trading opened it wouldn't last long. Talk about yelling fire in a crowded theater."
Friday Rebound
Chinese stocks rallied in volatile trading on Friday, with the Shanghai Composite Index climbing 2 percent at the close after the central bank set its reference rate little changed from Thursday's fixing and state-backed funds were said to intervene. That bolstered U.S. index futures, with contracts on the S&P 500 advancing 1.3 percent to 1,958.20.
The start of 2016 has been one of the fastest retreats from risk ever by investors coming back from New Year's holiday. Over the first four days of this week, more than $4 trillion was wiped from the value of global equities, volatility in the broadest stock gauges has jumped 30 percent or more, and 9 percent was shed from the price of oil. Almost everything -- from junk bonds to cocoa and coffee -- has tumbled.
Adding to frustration among American traders was a sense that not much that is happening in China's stock market was relevant to either the Chinese or U.S. economies, let alone prescriptive for how equities should trade in America. Four days into 2016, though, the S&P 500 has plunged more than 5 percent to cap its worst four-day start to a year since records began.
Tail, Dog
"It's definitely the Asian tail wagging the Western dog right now," said Eddie Perkin, who helps oversee $311 billion as chief equity investment officer at Eaton Vance Corp. Perkin said looking in on China is the last thing he does before bed and the first after waking up.
"I'm not sure that we've learned a whole lot new in the last few days, even though we've had a lot of volatility," he said. "There are a lot of technical factors around these circuit breakers and the restrictions on insider selling in China. A week from now, we'll all be talking about U.S. corporate earnings."
The China Securities Regulatory Commission announced the suspension on its official microblog account on Thursday night. The decision came hours after CSRC officials held an emergency meeting to talk about conditions on the nation's tumbling stock market, according to a person familiar with the discussions who asked not to be named because he wasn't authorized to speak publicly.
Exacerbating Losses
The nation's market circuit breakers, which halted exchanges for 15 minutes after a 5 percent drop in the CSI 300 and for the rest of the day after a 7 percent retreat, were criticized by analysts for exacerbating losses as investors scramble to exit positions before getting locked in.
"If it's somebody who really doesn't know a lot about China, this is kind of scary. They say, 'Oh my god, their market can drop 7 percent,'" said Nick Sargen, who helps manage $46.2 billion as chief economist and senior investment adviser for Fort Washington Investment Advisors Inc. "The reason I can be more calm about it is that I follow that market, I can say, listen it's a cowboy market."
Night owls have been rewarded for at least a year as China's influence moved action in U.S. stocks to hours when exchanges were closed. In 2015, shares in the S&P 500 swung more during off hours than their small-cap brethren for the first time in at least 15 years. Data compiled by Credit Suisse Group AG measured the difference in price between when exchanges close at 4 p.m. in New York and reopen the next day at 9:30 a.m.
"When I look at the news I go, 'that causes this big of a market move?' It doesn't make sense," said Sargen. "The Chinese stock market sells off, I shrug my shoulders and just say that adds to market volatility. Does it fundamentally alter my view on the global economy or U.S. economy? No."
Before it's here, it's on the Bloomberg Terminal.
LEARN MORE