VW CEO to Meet With EPA Chief as Diesel Talks Continue
Jeff Plungis
Meeting with EPA Administrator Gina McCarthy in D.C. Jan. 13

Mueller's first U.S. visit comes days after federal lawsuit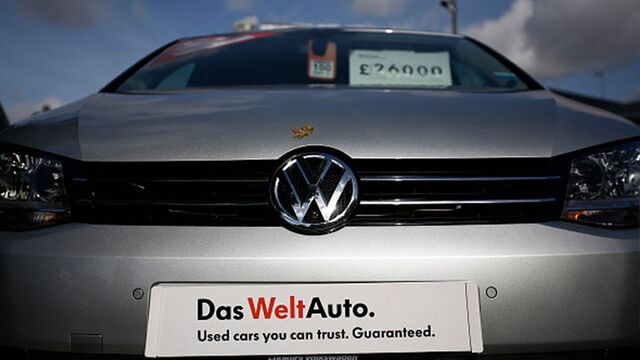 Volkswagen AG's chief executive officer will meet with the head of the U.S. Environmental Protection Agency next week as the company and agency negotiate a vehicle recall to resolve the diesel crisis weighing on Europe's largest automaker.
Matthias Mueller's meeting with EPA Administrator Gina McCarthy was requested by the company, which admitted in September that it rigged the software of 482,000 diesel cars beginning in 2009 to pass U.S. emissions tests. When not being tested, the cars released pollution well in excess of permitted levels.
McCarthy said Thursday that VW's proposals to bring its cars into compliance with emissions standards have so far been inadequate. The agency and VW have been having "a large amount of technical discussion" so far, she told reporters at an event in Washington.
"We haven't identified a satisfactory way forward," McCarthy said. The EPA is "anxious to find a way forward so that the company can get into compliance," she said.
The meeting with Mueller is scheduled for Jan. 13 in Washington -- the day before the California Air Resources Board is scheduled to publicly respond to VW's proposed repairs.
First Visit
The trip is Mueller's first official visit to the U.S. since assuming the top job at Volkswagen after his predecessor quit in the wake of the scandal. The company says he plans to meet unspecified political leaders and possibly other officials. He is scheduled to host a reception for media and industry officials in Detroit on Sunday, ahead of the North American International Auto Show.
VW spokesman Eric Felber declined to comment on Mueller's U.S. travel plans. The meeting with McCarthy, in Washington, was announced by the EPA.
Volkswagen is under added pressure to fix its U.S. diesel engines after the Justice Department filed a lawsuit that could add tens of billions of dollars in fines to the company's costs from the scandal. While VW has won approval from European regulators for relatively inexpensive fixes -- mostly with updated software -- in the U.S. it faces stricter emissions standards and regulators taking a harder line.
Volkwagen may have to engineer a complex repair involving new hardware to bring most of the cars with 2.0-liter engines into compliance. The company may also have to buy-back some vehicles and pay for environmental programs to offset the pollution from non-compliant cars that have been on the road since 2009.
Asked about the possibility of VW having to buy back some vehicles, McCarthy said "We haven't made any decisions on that."
Buy Back
Two U.S. Democratic senators urged Volkswagen to offer U.S. consumers multiple options to compensate for damages and inconvenience of owning the diesel cars, including a speedy repair and money for lost resale value and any decrease in fuel economy.
"For owners who no longer want their car, Volkswagen should buy back the vehicle at the fair market value that existed prior to the time at which Volkswagen's fraudulent activity was made public," Senators Richard Blumenthal of Connecticut and Edward Markey of Massachusetts said in a letter to Volkswagen of America Chief Executive Officer Michael Horn.
EPA and the California Air Resources Board are also investigating whether 85,000 VW, Audi and Porsche vehicles with 3.0-liter diesel engines are violating clean-air standards.
Before it's here, it's on the Bloomberg Terminal.
LEARN MORE