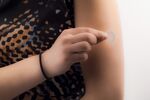 Innovator: Pierre-Henri Benhamou
Age: 60
Chief executive officer of French biotech company DBV Technologies
Form and function: There are no approved immunotherapies for food allergies. The coin-size Viaskin patch, worn daily on the skin, helps reduce peanut sensitivity through gradual exposure, its inventors say.
Origin: The company began developing patches to test for allergies in 2002 and began refining them as treatments in 2006.
Market: 5.2 million people in the U.S. and Europe could use the peanut patch, Morgan Stanley says.
1. Setup
Each patch contains 250 micrograms of peanut protein powder, which dissolves into the skin when combined with sweat, gradually training a wearer's immune system to handle it.
2. Results
After two years of treatment, 70 percent of daily wearers in a 171-person study could tolerate food with trace amounts of peanuts, DBV says.
Price: Morgan Stanley estimates the treatment will cost about $6,500 a year in the U.S. and $3,300 in Europe. DBV wouldn't comment on pricing.
Funding: DBV raised $282 million in a July share sale.
Next Steps
Efren Rael, clinical director at Stanford's allergy research center, says he thinks Viaskin will be effective as long as people can be trusted to use it daily. He says it may be slower than a therapy in which patients directly ingest trace amounts of peanuts; DBV declined to compare the two treatments. It'll seek U.S. and European Union regulatory approval for the patch following a yearlong Phase III trial with 330 patients, which began in December.
Before it's here, it's on the Bloomberg Terminal.
LEARN MORE