UBS Cut Its Forecast for Apple iPhone Sales, and Now Suppliers Are Getting Hit
Weaker sales and weaker share prices.
by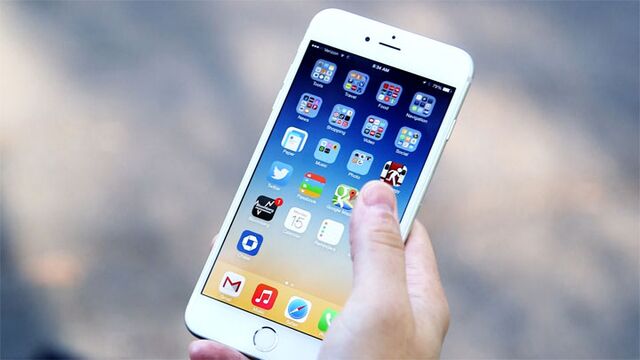 It's been a rough few months for shares of Apple, and now suppliers of the company's iPhones are getting hit on reports of weak demand.
The falling share price comes on the back of a broader market selloff as well as a note from analysts at UBS, who have cut their iPhone and Apple earnings-per-share estimates on expectations the slowdown will continue in the near term:
"Following a December supply chain cut that would result in March production down 15-20 percent year-on-year, there appears to have been a further cut based on poor results at Catcher and Largan as well as a Nikkei article indicating a reduction in 6s units 30 percent below original plans. There is quite a bit of smoke here, so we are reducing our [fiscal year 2016] iPhone estimate to 220 million units, down 5 percent. Our EPS estimates fall to $9.45 for [fiscal year 2016] and $10.85 next."

The pain is starting to feed rapidly into the iPhone supply chain. Such companies as Dialog Semiconductor, which makes chips used in the iPhone and gets most of its sales from Apple, have seen even steeper declines in their share prices.

If this trend continues, some analysts say there could be a larger impact on the market as a whole given Apple's importance in the S&P 500 index. That would be unwelcome news on a day when the market is already feeling weak.
"I think Apple will be a big deal not only because it is so widely held, but because in theory it has so much net cash that it should be 'floored,' and finally, because people believe they understand it (I'm not sure people believe they understand FANG to the same degree they understand Apple)," Peter Tchir, of Brean Capital, said in a note.
UBS is more optimistic in that it believes this is just a soft patch for the technology giant.
"The good news is that the main problem may be the timing of upgrades. Apple is not losing share—the brand and ecosystem have never looked stronger," Steven Milunovich and his team said. "Whether upgrade cycles will lengthen or shorten with installment plans remains to be seen."
They see a downside risk of about $85 and have a base-case price target at $130. 
Also cutting its forecast is RBC Capital Markets. "Our sense is that iPhones are likely sitting at higher than optimal inventory across multiple geographies, and as a result, Apple has implemented further production curtailment across the supply chain," Amit Daryanani and his team said. "While we recognize that the 'noise surrounding Apple will keep the stock range-bound until we are done with the March quarter, we maintain our Outperform rating on Apple, as we expect demand to recover and year-over-year growth to resume in the June quarter (accelerating) in the second half of 2016."
RBC lowered its price target to $130 from $140. 
Before it's here, it's on the Bloomberg Terminal.
LEARN MORE