Turbulence in China Punishes Oil to Copper as Gold Haven Emerges
By , , and
Bloomberg Commodity Index slides to lowest level since 1999

Weak yuan seen hurting China commodity demand, lifting exports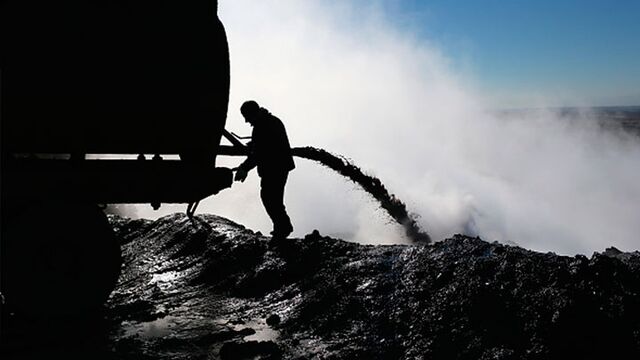 China's market turmoil is kicking commodities when they're down.
The central bank on Thursday cut the yuan's daily reference rate by the most since August, guiding the currency lower amid tepid growth. While that may help stimulate the flagging export sector, it'll make everything from oil to copper and corn costlier to import into the world's biggest user of energy, metals and grains. Additionally, more overseas shipments of surplus raw materials such as steel and diesel will add to oversupplied global markets.
Commodities are coming off their worst annual performance since the 2008 global financial crisis, and the latest move by Chinese authorities heightens concerns that the slowdown in Asia's biggest economy is deeper than anticipated. Weaker demand in the nation have dragged returns from raw materials to the lowest since 1999, after a decade of soaring consumption fueled a so-called supercycle and a boom in prices.
"From China's perspective, crude and other commodities will get more expensive when the yuan weakens," Hong Sung Ki, an analyst at Samsung Futures Inc. in Seoul, said by phone. "Being the biggest commodities importer, depreciation of the yuan is a bearish factor in the demand and supply picture as China will cut purchases, which will push down prices."
The Bloomberg Commodity Index dropped as much as 0.6 percent to 76.1579 by 2:26 p.m. in Singapore, the lowest intraday level since March 1999 for the measure of returns from 22 raw materials.
Market Turmoil
The slump extended to equities, with energy and resources shares tumbling the most on the MSCI Asia Pacific Index. China Coal Energy Co. plunged 8.2 percent in Hong Kong, while Australian explorer Origin Energy Ltd. and miner South32 Ltd. slid more than 7 percent in Sydney. BHP Billiton Ltd. traded 4.8 percent lower.
China's mainland shares were routed, forcing the world's second-largest stock market to shut early for the second day this week. An unexpected yuan devaluation in August had also roiled global markets on concern the move would fuel a currency war and exacerbate deflationary pressures in the developed world.
West Texas Intermediate oil futures in New York dropped as much as 3.7 percent to $32.71 a barrel, extending losses from the lowest close in seven years. Brent crude in London lost 3.8 percent to $32.94 a barrel.
Copper on the London Metal Exchange dropped 1.2 percent to $4,565 a metric ton, while nickel slumped 2 percent and zinc declined 2.2 percent. Corn futures in Chicago slipped 0.4 percent as wheat and soybeans fell 0.2 percent.
Investor Panic
Investors are being driven "more by emotion and panic" rather than market fundamentals, according to David Mann, the chief economist for Asia at Standard Chartered Plc in Singapore.
"The main conclusion that people are drawing from this depreciation is that they suspect it's a last-ditch attempt to support the economy," Mann said by phone. "That all other options to boost growth are used, and that it must be because things are even worse."
Amid the turmoil, gold's status as a haven drew investors to the metal. Spot bullion climbed 0.5 percent to $1,099.23 an ounce, according to Bloomberg generic pricing. It has climbed 3.6 percent this year in the longest run of daily gains since October.
The rout in equity markets is spilling into commodities, said Dominic Schnider, the head of commodities and Asia-Pacific foreign exchange at UBS Group AG's wealth-management unit in Hong Kong.
Chinese investors have "been living with a strengthening currency for a long, long period of time and now you see weakness and it becomes more clear that the economy will slow, the currency will be weak and a lot of capital likes to leave," he said. "That leaves the currency vulnerable and a lot of asset classes vulnerable."