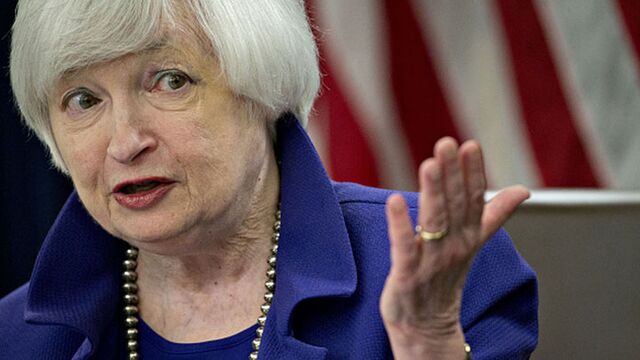 Janet Yellen and her Federal Reserve colleagues have long tracked an entire dashboard of employment indicators to gauge whether the U.S. is approaching full employment. Now, officials are shifting their focus to price pressures.
Rather than simply monitoring headline inflation — which is far from the Fed's 2 percent goal, held back by a slump in oil prices and a strong dollar — officials are looking at an array of indicators, the minutes from policy makers' December meeting suggest. 
Actual progress toward the inflation target as well as expectations about prices going forward will "be the key determinant of the timing of subsequent rate hikes," said Sam Bullard, a senior economist at Wells Fargo Securities in Charlotte, North Carolina. He said the concept behind Yellen's labor market dashboard — highlighting a number of data points that give a fuller picture — might also apply to prices. "Maybe there's going to be a dashboard of inflation indicators."
These would be the components, based on the minutes released Wednesday. 
Headline inflation
This is the index that the Fed agreed in 2012 to use as the base for its 2 percent goal. Published by the Commerce Department, the measure is linked to personal consumption expenditures. According to it, price pressures are looking benign. 

Core inflation
Core inflation, which excludes the volatile food and energy components in the headline index, looks slightly closer to the Fed's 2 percent goal. Fed speakers, including Yellen, have emphasized it consistently. 

Core Consumer Price Inflation
The Labor Department's price indicator hasn't traditionally been the Fed's focus, but it shows a more substantial pickup than the Commerce Department measures the central bank has historically relied upon. When "several participants'' noted that alternative indicators show a stronger pickup in inflation than did the core and headline measures, this was among the indexes they referenced. 

Sticky Consumer Price Inflation
This indicator, which the Atlanta Fed produces by separating out items in the consumer price index that are slow to adjust to economic conditions, seems to incorporate inflation expectations and is thus viewed as a potentially good indicator of where inflation is heading. Participants at the meeting also brought this one up. 

Trimmed Mean Inflation
The Dallas Fed's trimmed mean indicator, which is based off of the Commerce Department's personal consumption expenditure index, throws out the most volatile components in any given month to get a smoother read on inflation. Officials pointed toward it as a signal that price pressures are rising. 

Before it's here, it's on the Bloomberg Terminal.
LEARN MORE