Spotify Isn't Laughing Off This Lawsuit
A giant class-action claim centers on mechanical licensing.
By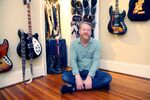 For the past few years, Spotify has been the music industry's dream: a popular online service that's also willing to pony up for licensing fees. But a copyright infringement suit filed by David Lowery, the frontman for Cracker and Camper Van Beethoven, says Spotify hasn't fully paid for many of the songs it streams. Lowery is seeking class-action certification. The implication is that the company, which prides itself on providing a compelling alternative to online piracy, has built its business by begging forgiveness instead of asking permission.
Lowery's suit, filed right before the new year, says Spotify's unlicensed streams of his and other songwriters' compositions could make the company liable for up to $150 million, because statutory damages for copyright infringement range from $750 per work to $150,000 for willful infringement. The case could have ripple effects far beyond Spotify. Because it turns on a licensing issue shared by most of the streaming services that let users choose which songs they hear, it could affect a wide range of online music options, including Apple Music.
Spotify has pretty good relationships with the major record labels, which have equity stakes in the company. But a license for one piece of music involves two distinct copyrights: the recording, usually owned by the performer's label; and the underlying composition, owned by the songwriter or his publisher. (Dolly Parton collects royalties from Whitney Houston's recording of I Will Always Love You, for example, because she wrote the song and controls that copyright, separate from Houston's recording.) To use a recording, streaming services such as Spotify need to secure what's known as a mechanical license for the underlying song, either by negotiating with the publisher or by sending the rights holder a notice and paying a royalty set by law.
Lowery, an outspoken advocate for creators' rights, says in the lawsuit that Spotify often skips the second part. Spotify doesn't really argue otherwise—it just says some beneficiaries are hard to track down. "We are committed to paying songwriters and publishers every penny," company spokesman Jonathan Prince said in a statement. "Unfortunately, especially in the United States, the data necessary to confirm the appropriate rights holders is often missing, wrong, or incomplete." The company has set aside undisclosed funds to pay creators it hasn't identified, and has been negotiating a settlement for past infringements with the National Music Publishers Association.
The music industry began to take wider notice in October, after the independent label Victory Records told the Wall Street Journal that Spotify paid only about 79 percent of the royalties due on recordings for which it also owns the composition. Spotify responded by removing the label's music from its catalog, although the songs are now available again. "We came to a good resolution that works for everybody," Prince said.
Victory's data on Spotify came from Audiam, a company that scours streaming services to collect royalties for songwriters like Bob Dylan and Metallica as well as some independent publishers. Audiam founder Jeff Price says Spotify's payment problems go far beyond obscure songwriters, and he shared information that showed even Dylan—whose business representatives aren't hard to find—doesn't get royalties for all the plays of some of his best-known compositions. "We expect they won't want this to go in front of a jury," says Sanford Michelman, chairman of Michelman & Robinson, the law firm representing Lowery.
Henry Gradstein, a partner at law firm Gradstein & Marzano, says he's planning to file a similar complaint, seeking class-action status. (He declined to name the plaintiff.) If Spotify can prevent rights holders from suing as a class, the expense of federal litigation would likely discourage most artists and small publishers from seeking damages independently. More likely is a settlement agreement that would require Spotify to commit to taking specific steps to find rights holders. If the major streaming services all agreed to a similar deal, small companies could have trouble matching their efforts, says Mark Mulligan, an analyst at Midia Research. "The economics of streaming are already skewed toward a very well-funded company," he says. "This would tilt that even further."
A drawn-out case isn't in either side's interest. Spotify, which isn't profitable, would have an easier time attracting investment without the specter of a suit. The service is popular enough that most creators want to be on it, and given that it will always be easy to pirate the latest music, rights holders don't want to discourage Spotify's relative willingness to compensate them. "Spotify set aside money to make these payments, and they've been making good-faith efforts to address the issue," says Dina LaPolt, a lawyer who represents musicians and songwriters. But, she says, companies don't just pay because it makes them feel good. Sometimes it takes a lawsuit.
The bottom line: Lowery's lawsuit could prove to be a bellwether that leads streaming services to pay more for their music catalogs.
(Corrects Henry Gradstein's description of his similar lawsuit in seventh paragraph)
Before it's here, it's on the Bloomberg Terminal.
LEARN MORE