Skiers, Energy Traders Delight as EU Winter Finally Shows
by and
Natural gas, power prices rebound after warmest year on record

Weather set to cool, snow to arrive, boosting heating demand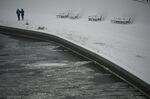 After Europe's gas and power markets plunged to records last year, 2016 started with a bang as a jet stream of cold weather moved south from the Arctic.
U.K. natural gas had the most bullish start to the year since 2013 and residential and industrial demand is forecast to rise 42 percent by next week, according to a Bloomberg model. French power prices rose the most in two years through Wednesday as grid data signaled that peak demand will gain another 12 percent by Jan. 14. Temperatures in Northern Sweden plunged to minus 37 degrees Celsius (minus 35 degrees Fahrenheit).

"One may think that the late arrival of winter means it will not arrive, but I believe it will," said Zach Allen, president of Pan Eurasian Enterprises, an industry consultant. "And prices will be rising as systems accommodate increased demand."
After last year's warmest year on record left holiday goers wearing tank tops on Christmas and ski resort owners lamenting a lack of snow, power and gas prices reached levels not seen since George W. Bush was president. Year-ahead power prices in Germany, Europe's biggest electricity market, are near the lowest level in more than 12 years while U.K. month-ahead gas ended last year at its lowest level since 2009.
Front-month natural gas prices on the National Balancing Hub in the U.K. jumped 3.6 percent to 34.32 pence a therm this week through Wednesday. French month-ahead electricity rose 9.2 percent to 40.30 euros a megawatt-hour, while the Nordic equivalent gained 4.6 percent to 25 euros.
There's now a "cooler trend" expected in north and mainland Europe next week, Eleanor O'Neil, meteorologist at WSI Corp. said by e-mail.

The Nordic region is forecast to be the coldest spot with temperatures seen dropping as much as 13 degrees Celsius below normal, according to WSI.

Scandinavia will probably see below-average temperatures until at least mid-January, Matthew Dobson, an energy meteorologist at MeteoGroup, said by e-mail. A jet stream could finally bring snowfall to the Alps and Balkans this week, which would "kick start the ski season," he said.
Before it's here, it's on the Bloomberg Terminal.
LEARN MORE