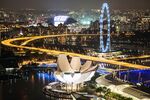 Singapore's economy grew 2 percent in the last three months of 2015, according to initial data released this week. The fall in global stocks in the previous quarter suggests that estimate may be too high, and that it could get revised down next month. 
The MSCI World Index, which shows stocks prices in developed nations and includes companies such as Apple and Toyota, dropped 3.3 percent in the three months through September from a year earlier. What happens with that index correlates highly with what happens with Singaporean GDP in the following quarter. 

(Lines in the chart are shifted by 1 quarter from each other to show the period of highest correlation. Data is shown through the 4th quarter for GDP and the 3rd quarter for stocks.)
The year-on-year change in the stock index correlates to what happens with Singapore's economy at 0.71, where a result of 1 would be perfectly correlated. This was evident in the third quarter when GDP growth slowed to a three-year low of 1.8 percent after the stock index posted the smallest gain since 2012 in the second quarter. 
"Because Singapore is one of the most open economies in the world, it does have a very strong relationship with world GDP growth" and that may be why some correlation is seen with stock markets, David Mann, chief economist for Asia at Standard Chartered Plc in Singapore, said this month. He estimates that the economy grew 1.8 percent in 2015. 
The initial or advance estimate for GDP is derived mainly from figures in the first two months of the quarter and is intended as an early indicator of growth, a Singaporean trade ministry spokesperson said on Jan. 4 in an emailed statement. It's revised when more comprehensive data becomes available, the spokesperson said. 
(Masaki Kondo is an FX strategist who writes for Bloomberg. The observations he makes are his own and are not intended as investment advice.) 
Before it's here, it's on the Bloomberg Terminal.
LEARN MORE