Oil's Big Bang: Saudis Mull IPO of World's Biggest Producer
By and
Decision is likely to be taken in the next few months

Saudi Aramco controls a tenth of world oil production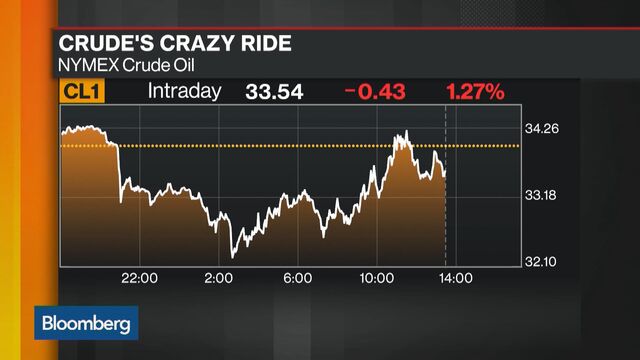 Saudi Arabia is considering its own Big Bang.
The world biggest crude exporter is considering selling a stake in its state-owned company, which controls more than a tenth of the global oil market.

A potential initial public offering is under review for Saudi Arabian Oil Co., also known as Aramco, Mohammed bin Salman, the kingdom's deputy crown prince, said in an interview with The Economist. A decision will probably be taken in the next few months, he said, without giving further details.

"Personally I'm enthusiastic about this step," Salman said. "I believe it is in the interest of the Saudi market, and it is in the interest of Aramco" by helping to promote transparency and counter corruption, he said.
Aramco could rival Apple Inc. as the world's biggest listed company. It is solely responsible for tapping the world's second-largest crude reserves, with production double that of its nearest rival. The company is one of the key players in balancing the oil market and its investment decisions have the potential to move crude prices and affect economies around the world.
Saudi Aramco officials weren't immediately able to comment on IPO plans. The company has previous experience listing a business -- in 2008, it floated a subsidiary called Rabigh Refining and Petrochemical Co. in the local stock market. The refinery, which processes 400,000 barrels a day, has a market capitalization of $2.3 billion.
Aramco controls 261 billions in oil reserves, more than 10 times the amount held by Exxon Mobil Corp., which has a market value of $319 billion.
"This is the Ferrari of the oil companies", said Danilo Onorino, portfolio manager at Dogma Capital SA, a family office in Lugano, Swtizerland. "Based only on its reserves and using a conservative assumption, Saudi Aramco would be worth over $2.5 trillion dollars."
Opening Aramco up to investors would be the most dramatic change in the kingdom's economic policy since it started nationalization in the 1970s, with Salman comparing his plans to Margaret Thatcher's shakeup of the U.K. economy in the 1980s.
Epochal Change
"This is an epochal change in the oil industry," said Bob McNally, founder of Washington-based consultant The Rapidan Group and a former senior White House official. "Saudi Arabia is getting ready to ride the oil-price roller-coaster, not control it."
Salman has held two meetings related to the sale of Aramco shares, The Economist reported citing unidentified officials. Options include selling shares in the parent company, which controls oil exploration and production, to offering smaller units that operate petrochemical, refining and marketing, according to the report. The Economist said about 5 percent of the company could be offered initially in Riyadh and more shares could be sold later, although the kingdom would retain control.
Since the ascension last year of his father, King Salman, the young deputy crown prince has been given ample powers to modernize the Saudi economy. He is the chair of the country's Council of Economic and Development Affairs and the head of the supreme council that oversees Aramco. As such, he could push ahead with an IPO, although the final word remains with his father.
While Saudi Arabia earned $285 billion from petroleum exports in 2014, the slump in crude prices has squeezed revenue for oil producers. The price of crude sold by OPEC members slid below $30 a barrel on Wednesday, the lowest level in almost 12 years, as turmoil in Chinese markets deepened the global commodities rout. The group's members lost about $500 billion in revenue last year because of the slump, according to the International Energy Agency.
Sole Producer
Despite oil's crash, the Saudi economy is far from a crisis, Salman said, according to a transcript of the interview published on The Economist's website. The country increased its non-oil revenues by 29 percent and taken steps to curb public spending, he said.
Aramco pumps all of Saudi Arabia's crude oil, with production at 10.25 million barrels a day in December. Among listed companies, Russia's OAO Rosneft produces more than 5 million barrels a day while Exxon pumps out about 4 million barrels.
Exxon, the world's biggest publicly traded oil company, had oil and gas reserves equivalent to about 25 billion barrels at the end of 2014 while Rosneft had almost 40 billion. Saudi Arabia's oil reserves alone totaled 267 billion, according to BP Plc data. Oil companies are typically valued on the reserves they hold.
Opening up Aramco would also advance Saudi Arabia's plan to bring in foreign investors and funds after it opened its IPO market last year.