Paris Police Kill Man With Cleaver and Fake Explosive Vest
by
Man shot as he was trying to enter a Paris police station

Incident on the first anniversary of Charlie Hebdo shootings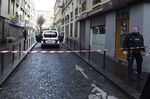 French police shot dead a man armed with a butcher's cleaver and wearing a fake explosive device as he tried to enter a police station in northern Paris, showing a city on edge on the first anniversary of the Charlie Hebdo terrorist attacks.
The Paris prosecutor's office said in a statement that the man carried a piece of paper with an "unambiguous" claim of responsibility and the flag of the Islamic State. The man, born in Morocco in 1995, cried "Allah Akbar" as he tried to enter the police station at 11:30 a.m. local time. Shots were fired at the man to prevent him entering the building, the Interior Ministry said.
"He fell immediately," Luc Poignant, a police union representative, said on BFM. The police bomb squad noted some wires on the man, suggesting he may have been carrying explosive material, he said. Television images showed a man wearing a camouflage-patterned jacket lying on the pavement outside the station, with a robot bomb-disposal unit hovering over him.
Police have identified the man as Sallah Ali, Agence France-Presse reported, citing unidentified people close to the investigation. Identified from fingerprints on the meat cleaver, Ali was already known to police in connection with a 2013 theft in the south of France, AFP said.
The shooting occurred shortly after President Francois Hollande finished a speech at police headquarters in the center of Paris to pay homage to law enforcement officers killed last year during two waves of terrorist attacks. France is marking the one-year anniversary of the attack on satirical magazine Charlie Hebdo during which 12 people were killed.
Schools Closed
Two schools in the area, on Goutte d'Or street, were closed and the children locked inside, Brandet said. Interior Minister Bernard Cazeneuve and the Paris police chief went to the precinct, the ministry said.
The police is reviewing surveillance-camera footage and the entire district around the site was sealed off, Brandet said.
"The terrorist threat is real and it's very high," he said. "We must be constantly vigilant."
Before it's here, it's on the Bloomberg Terminal.
LEARN MORE