Paris Attacks Response Wins Hollande French Backing, Not Party's
by and
One year after Charlie Hebdo, constitutional change is sought

Public supports proposal to strip terrorists of citizenship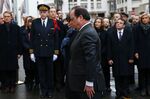 President Francois Hollande's immediate response to the terrorists attacks that hit Paris last year -- a mix of firmness and calls for national unity -- won him popular support from across the political spectrum. 
Now, his push to adopt security measures long advocated by right-wing parties, especially a proposed constitutional change to strip convicted French terrorists of their citizenship, has lost him the backing of many within his Socialist party, even as the public approves.
The French president this week kicks off ceremonies for the 147 victims of terrorism in 2015 -- the 17 who perished in attacks between Jan. 7 and 9 at Charlie Hebdo magazine and a kosher supermarket, and the 130 who lost their lives to the Nov. 13 attacks in and around Paris at cafes, the Bataclan concert hall and a stadium.
Bolstered by approval ratings that surged over a record 20 points in the month after the November attacks, Hollande has put national security at the forefront of his agenda. Early next month he'll seek support at a combined meeting of the Senate and the National Assembly to modify the French constitution to include the government's right to declare a state of emergency and to extend its power to strip French-born dual-nationality citizens convicted of "a severe crime against the nation" of their citizenship. Currently, only those who acquired their citizenship after birth can be stripped of it.
'Useless Measure'
The citizenship measure was initially proposed by former President Nicolas Sarkozy and is supported by the anti-immigrant National Front's Marine Le Pen, who said during her new year's address that the measure is "at the heart of our patriot vision of the world." About 86 percent of the French back the proposal to strip terrorist dual-citizens of their nationality, according to an Elabe poll published Dec. 29.
That's not a view shared by prominent members of Hollande's Socialist Party. His Justice Minister Christiane Taubira, his former Prime Minister Jean-Marc Ayrault and Paris Mayor Anne Hidalgo, with whom he'll stand hand-in-hand at all the tribute ceremonies, are vocal opponents of the citizenship law and have criticized his focus on law-and-order measures. They say the law has little practical effect and would create a distinction between French-born citizens with a second nationality and those without. Several Socialist lawmakers said they will fight the president to prevent its incorporation in the constitution.
"This measure is useless: we're going to lose a month debating it," Hildago said on France Inter radio Jan. 4. "We need policies that produce results on unemployment, a major issue in our country."
Divergent Views
The public and Socialist leaders are looking at the issue from different perspectives, says Yves-Marie Cann, head of political polling at Elabe.
"For the general population, it's just common sense that you are no longer French if you attack innocent French people on behalf of your allegiance to an outside force," Cann said. "The political and intellectual debate has focused on the legal and symbolic issues of discrimination and the creation of stateless people."
The president bypassed opposition within his ranks and justified his position directly to the French people in his annual televised New Year's address. 
"What happened changed us, even transformed us," he said, calling on the French people to confront the causes of the drama "head-on, treating them with firmness."
Empowering Police
Leaders of Sarkozy's Republicans have called for the measure to be extended to all French citizens, not just those with another nationality. That position has even been reluctantly adopted by some Socialists, including party secretary general Jean-Christophe Cambadelis, even though France has signed, but not fully ratified, international accords committing it to not creating stateless people.
Addressing law enforcement officials on Thursday, Hollande said the attacks have made France "even more resolute to defend the nation."  He said intelligence and police services will do more to share information. His Prime Minister Manuel Valls plans to submit a bill next month to extend the powers of police and intelligence officers.
The bill will put into law some measures that hitherto have only been applicable under a state of emergency. France imposed a state of emergency the night of the Nov. 13 attacks and parliament extended it by three months. Since then 25 crimes connected with terror activities have been brought to light, Hollande said.
Poll Gains
Hollande gained as much as 24 percentage points in two approval rating polls published in the weeks after the November attacks. A TNS-Sofres survey for Le Figaro Magazine showed his approval rating at 35 percent, up 20 points in a month and the highest in almost three years. An IFOP poll for Paris Match magazine showed his approval rating at 45 percent, up 14 points in a month.
The bump was welcome for Hollande, but doesn't plaster over other realities: 74 percent of French voters do not want him to run again. Respondents in the Odoxa survey published by Le Parisien Jan. 1 rejected Sarkozy, who plans to run again in 2017, by the same score.
Want Renewal
With unemployment at an 18-year-high of 10.8 percent, the president did say Dec. 31 that creating jobs "remains my top priority." Unemployment is the most important issue for 2016, respondents for a Odoxa poll published Dec. 31 said, ahead of fighting terrorism and reducing poverty.
"The vast majority of the French think that policies that have been tried have failed," said Gael Sliman, president of Odoxa. "They see a renewal of the political class as a necessary step to improve the situation."
Before it's here, it's on the Bloomberg Terminal.
LEARN MORE