McLaren Chases Ferrari With Sales Jump and 40% More Engineers
by
U.K. supercar maker will boost production to 20 autos a day

Demand spurred by latest $180,000, 204-mph Sports Series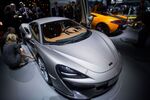 McLaren Automotive Ltd., the Formula 1 racing team turned supercar-maker, increased sales of its 200-mile-per-hour autos for a fifth straight year and plans to increase its engineering workforce by 40 percent to take on more-established rivals led by Ferrari NV.
The U.K. company sold 1,653 cars in 2015, spurred by the Sports Series line introduced in April and billed as the "most accessible form of McLaren ownership" with a starting price of 126,000 pounds ($180,000). The 3.8-liter, twin-turbocharged 570S version can reach 100 mph in 6.3 seconds.
Some 250 extra jobs, most of them in production, will help lift output to 20 cars a day by the middle of this year from 14 now, Woking, England-based McLaren said Thursday. The company added 12 retailers last year, including outlets in Houston, Mexico City and Seoul, taking the total to 80 in 30 markets.
McLaren, which began a transition to volume manufacture in 2010 to leverage its racetrack success, is accelerating output just as Ferrari -- the only F1 team with more championships -- becomes an independent company after its spinoff from Fiat Chrysler Automobiles NV. The Italian company, which began trading in Milan on Monday, said in October it expected to sell about 7,700 cars in 2015.
Production Goal
"The launch of the new Sports Series is a step-change," McLaren Chief Executive Officer Mike Flewitt said in a statement. "It opens the company up to new markets, new customers and consequently, new sales volumes." The U.K. company aims to lift production to 4,000 cars annually as early as 2017.
McLaren introduced a three-tier product structure last year: the 540C and 570S Sports Series, the mid-priced Super Series -- comprising the 650S and 675LT -- and the top-end Ultimate Series made up of the P1 and the P1 GTR, a 2 million-pound track car unveiled at the Geneva Motor Show in March.
Manufacturing of the 12C, McLaren's first production car since the F1, which had a run of barely 100 vehicles and was the costliest auto of the 1990s, ceased in 2015 with about 3,500 examples built since early 2011.
In Formula 1, McLaren placed ninth in the 2015 constructors standings with its worst points finish since 1980.
Before it's here, it's on the Bloomberg Terminal.
LEARN MORE