Marks & Spencer Chief Bolland Quits as Sales Slump Persists
by
General-merchandise head Steve Rowe to take helm in April

Retailer's holiday sales decline more than analysts' estimates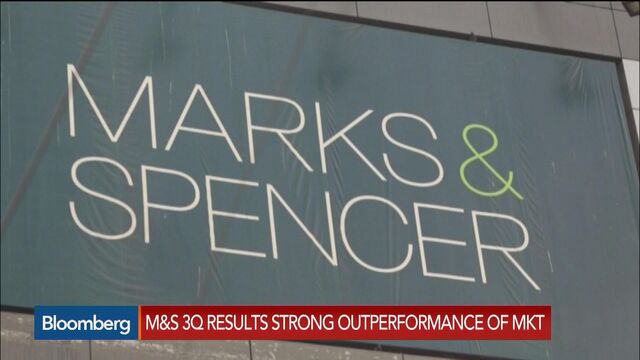 Marks & Spencer Group Plc Chief Executive Officer Marc Bolland will step down after failing to revive clothing sales in almost six years at the British retailing bellwether.
Bolland, 56, will retire on April 2 and be succeeded by Steve Rowe, a 27-year company veteran who heads its general-merchandise unit, Marks & Spencer said Thursday as it reported a slump in holiday sales.

Bolland's departure comes after he struggled to stem a near-continuous decline in clothing sales. M&S fashions have failed to inspire shoppers, which prompted several management shuffles at the clothing unit, while Christmas sales were hurt by a shortage of some products. The lack of revenue growth has irked shareholders, with about 6 percent opposing Bolland's re-election at last year's annual general meeting.
"Sustained evidence of sales delivery has proved to be so elusive and ultimately needs to change," Clive Black, an analyst at Shore Capital, said in a note.

M&S shares rose 0.8 percent to 442.4 pence at 8:57 a.m. in London, helped by news that full-year profit margins for general merchandise will be at the top end of the company's forecast range because of less discounting. The stock has risen 21 percent during Bolland's time in charge, while competitor Next Plc has almost tripled.
Bolland led the company "through a period of necessary change," Chairman Robert Swannell said in the statement. His tenure has been marked by a succession of management changes, with both Kate Bostock and John Dixon leaving after failing to boost clothing sales while in charge of the general-merchandise unit.
That role is currently filled by Rowe, who replaced Dixon last year and will earn an annual salary of 810,000 pounds ($1.2 million) as CEO. Rowe, 48, had previously headed the company's food unit, which in contrast to clothing has consistently performed stronger than the wider U.K. grocery market.
'No Concerns'
"No-one knows M&S better than him and we have no concerns from an operational point of view," Tony Shiret, an analyst at Haitong Securities, said in a note.
During Bolland's tenure, M&S introduced a new website, modernized its information systems and revamped distribution, having fallen behind rivals as more shoppers shifted to online ordering. While necessary to keep pace with a rapidly changing industry, the moves weren't without teething problems, further delaying any sales recovery.
Bolland also overhauled the retailer's supply structure -- making M&S less dependent on middlemen and sourcing more of its products directly from manufacturers -- and shifted the retailer away from a culture of discounting.
"Marc Bolland has done a good job in running M&S consistently along a modernizing agenda during a very difficult period," Shiret said.
Tough Christmas
Speaking on a conference call, Bolland denied that investor pressure was behind his decision, saying he always expected to serve five to six years as CEO.
"Our profitability over the last two years is up by 10 percent and the sector's profitability is down by 20 percent," Bolland said. "Shareholders recognize this company is a very healthy one."
Still, the general-merchandise unit had a "disappointing" Christmas, M&S said. Same-store sales in the division, which accounts for about 40 percent of revenue and mostly comprises apparel, fell 5.8 percent in the 13 weeks ended Dec. 26. That compared with the median estimate of 24 analysts for a 2 percent decline, and is on top of a 5.8 percent drop in the same period a year ago.
Because of reduced discounting, the company said the division's gross profit margins will be at the top of its forecast range for growth of 2 to 2.5 percentage points.
M&S's food division was once again a relative bright spot over Christmas, despite declining food prices. Same-store sales rose 0.4 percent, compared with the median analyst estimate for a 0.5 percent increase.
Before it's here, it's on the Bloomberg Terminal.
LEARN MORE