Motorcycles
Make 2016 the Year You Learn to Ride a Motorcycle—Here's How
There are more steps than learning to drive a car (do you need a special outfit for your Jetta?) but really, what are you waiting for?
By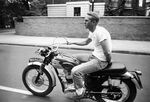 It's time.
You've spent too many years watching Steve McQueen flying over boulders and leaning into cobblestone street corners; seen too many Mission Impossible stunts that make you rethink how you feel about Tom Cruise. Even teensy Rooney Mara blasting through the dark in her Dragon Tattoo leather has made your palms itch.
The time is now. This is the year you learn to ride a motorcycle. 
Here's the thing. This time it can't be just talk. I could name a dozen guys right now who have talked about going legit for a long time (some of whom have ridden for years—illegally) but who have never actually manned up enough to follow through on their word. Don't be one of them. The hardest part is the first step: putting into motion the process that ends when you walk away with your license. Once you do that, the other steps fall into line like water pouring over a cliff—naturally!
Forget the waffling—you've got only one life for the moment, you might as well take advantage of it.
Here's what to do:

1. Get Your Permit
Most states require a motorcycle permit, which you can get in an hour at your local DMV by passing an easy written test. Once you have a temporary motorcycle license or learner's permit (and some road time), you will be able to take a riding test and obtain your regular motorcycle license.

2. Find a Safety Course
A motorcycle safety course isn't mandatory for obtaining your riding license, but it often affords cheaper insurance rates and—crucially—could very well save your life. Safety courses force you to learn appropriate throttle and clutch control, balance, street etiquette, and basic maintenance. I have known longtime riders who take the course annually just to refresh their fundamental skills. (It's also a great way to meet other riders—of both sexes—in your area. Classes are coed, after all.) Better yet, if you take the course offered by the Motorcycle Safety Foundation, you can obtain your license by taking the final riding and written tests at the end of classes. It saves a lot of time and stress.
3. Study the Manual
You can obtain your state's motorcycle driver's manual by visiting a Department of Motor Vehicles office or accessing your state's website. The manual teaches you what road signs mean—riding a motorcycle requires different consideration than piloting something with four wheels—and what laws apply to your state (for instance, some states don't require gloves or helmets; other states forbid lane splitting). It will also help you determine insurance and registration requirements; when and where you need to get a safety inspection; and particular maneuvers you may find useful on the road. (Sometimes you may want to read the moto manual along with the state driver's handbook, because specific traffic law information for each may vary.) The manual will also probably include practice questions to help you pass your DMV written exam. 

4. Get the Gear
A helmet goes without saying. The big question here is what style of riding you want to do. Do you love McQueen in his dirt-bike phase (go with Shoei or Scorpion) or in his café racer face (go Bell)? Or do you love the Italians with their stylish sport bikes (choose a helmet from either Icon or Bell)? Or do you just want to cruise, Hunter Thompson style (in that case, choose one from Harley-Davidson)?
If you choose a helmet that has an open face, you will also need to wear something to protect your eyes. Sunglasses work, if they fit you well, and goggles can be cool, too. The important thing here is to land on something that you will actually use, and that doesn't obstruct your peripheral vision.
After that, you'll need some sturdy shoes for riding—something that protects your ankles from hot pipes and with enough of a heel and tread so that your foot doesn't slide forward and off the pedals. Frye, Justin, Filson, and Red Wing make solid varieties. Look there first. (While you're at it, look for a good, slim pair of gloves, too—some states require them. Avoid anything too bulky that would obstruct your ability to feather the clutch or pull the brake.)
Third, and most important for both your new image as a motorcycle rider and your ability to avoid road rash should you fall, you need a leather jacket. Now there are many different types of jackets—save the fringe for your Harley, use the punk look on a café racer—so be prepared to spend some considerable time and money on a good one. Or, better yet, just have a blonde Nashville rocker make one for you exactly to your taste and size. It's expensive, but it's an investment.  
You can also go fully in, as they say, and buy biker-specific gear that includes built-in armor to protect your shoulders, knees, hips, back, elbows, and ribs. Roland Sands makes stylish jackets with road-guards in them; Revzilla makes dozens of specialized armored items—both for men and women—for the rest of your body.   

5. Know Your Bike
State law says you can take your riding test on any full-fledged motorcycle you choose—so choose wisely. (You are responsible for bringing a bike that is legally registered and insured in your state; if you're 18 or under, you have to come with a parent or guardian.) This is not the time to take out your cousin's new Guzzi if you are not previously acquainted with it. Be familiar with the feel of the clutch and brake, the throttle sensitivity, the choke (if it has one), the weight, the turning radius, and the starting quirks of whatever bike you bring to the test. Stick with the bike on which you practiced.
6. Prepare Your Mind
I'm not going to tell you to read Zen and the Art of Motorcycle Maintenance—but it wouldn't hurt! Additionally, I wouldn't look down my nose at a solid perusal of Motorcycling for Dummies. Hunter Thompson's Hell's Angels is a classic; Long Way Round will make you want to explore. Here are some other general pointers: Keep a light touch on the handlebars and throttle; if you're not confident and/or don't feel safe, get off the bike. Keep your head and your eyes up (the body and bike follow where the head and eyes go); remember that slow is smooth and smooth is fast.
7. Take a Practice Test
Practice doesn't make perfect, but perfect practice makes you better. It's worth a run-through or two.

8. Practice on the Street, in Parking Lots, on Back Roads ...
For the final riding test the instructor will evaluate your ability to stop quickly and precisely, turn smoothly and in your own lane(!), swerve effectively, accelerate confidently, control the clutch in tight formations (crazy eights, anyone?), and adjust your speed and position in heavy traffic. All of these are well within your ability to practice at home, and often.
Done with all of that? Now go schedule your riding test! You're ready to join the club.
P.S. I'm not going to discuss what happens if you fail your test, because it's not going to happen and I don't want you to make provisions for that. You can go here if you want to think about worst-case scenarios (which usually involve waiting periods and road fees).
Before it's here, it's on the Bloomberg Terminal.
LEARN MORE